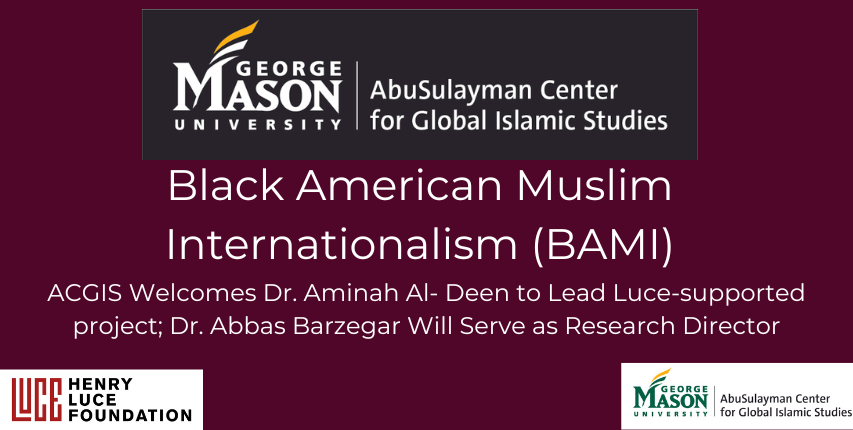 ACGIS Welcomes Dr. Aminah Al- Deen to Lead the project and Dr. Abbas Barzegar to Serve as Research Director
The AbuSulayman Center for Global Islamic Studies (ACGIS) is pleased to announce that Professor Aminah Al-Deen, one of the foremost experts on African- American Islam nationwide, joined Mason's faculty to lead the Black-American Muslim Internationalism Project (BAMI), made possible by a generous grant from the Henry Luce Foundation.
Professor Al- Deen will serve as the BAMI Project's Project Director and Primary Investigator and will lead the multifaceted research, archiving, and public programming for the project. Read more about Prof. Al- Deen here ( link to her page on Center website, bio attached below).
The project will work in collaboration with leading university-based scholars as well as a network of community-based historians in three cities (the Washington DC area, Philadelphia, and Atlanta) to develop a multi-tiered research and programming initiative that can influence academic and public narratives around religion, race, and identity while also filling current gaps in the scholarly record.
Prof. Al-Deen noted, "This is an honor for me to be selected to direct this potentially awesome project with an outstanding advisory board. The level of commitment and expertise will see that we produce not only archives, but opportunities for various communities to speak and discuss issues with each other. I am very excited."
BAMI will be housed at the AbuSulayman Center for Global Islamic Studies at George Mason University (ACGIS) and is funded through a special initiative under the Luce Foundation's Religion and Theology program focused on Advancing Public Knowledge on Race, Justice, and Religion in America.
Dr. Al-Deen and an Advisory Committee consisting of Ms. Aisha al-Adawiya, formerly of the Schomburg Center for Research in Black Culture; Dr. Youssef Carter, University of North Carolina; Dr. Nisa Muhammad, Howard University and Dr. Ahmet Tekelioglu of ACGIS will oversee the project and collaboratively shape its research agenda.
ACGIS is also pleased to announce that Dr. Abbas Barzegar has joined Mason faculty and will be serving as the Research Director for BAMI and will help further develop the After Malcolm Archive, another Mason and ACGIS-supported initiative that he has lead since its inception, aimed at promoting scholarly engagement around the historical African American Muslim experience and the preservation of its history through a digital archive of community and cultural production. Read more about Dr. Barzegar here (link to his page on Center website, bio attached below).
Dr. Barzegar said, "Just as African American Muslims have developed theological, legal, and spiritual traditions distinct to their historical experience, they have also engaged the global mosaic of Islam as a major world religion. To date, these genealogies have been woefully understudied and undocumented. The BAMI initiative serves to fill this glaring gap in global Muslim history as well as that of American religious pluralism. It does so by collaborating with community based historians, experts, and leaders in a research process that is as commonsensical as it is urgently overdue."
By centering the voices and experiences of community members, local historians, and other experts, BAMI will advance public knowledge while also yielding significant impact within academic communities through a range of activities and deliverables, including: public and academic-facing workshops & convenings; online discussion and debate forums on the Maydan digital publishing platform; public lectures; training workshops on curriculum development and pedagogical application; archive-building research in collaboration with community-based historians; and a public-facing project website organized around a long-form interactive essay on Black American Muslim Internationalism.
---
Dr. Aminah Beverly (McCloud) Al-Deen is professor emerita of Islamic Studies in the Department of Religious Studies at DePaul University. In 2006, she founded the United States' first undergraduate baccalaureate program in Islamic World Studies. She is the former Editor in Chief of the Journal of Islamic Law & Culture. Her book publications include: African American Islam, Questions of Faith, Transnational Muslims in America, Introduction to Islam in the 21st Century, Global Muslims in the 21st century, History of Arab Americans: Exploring Diverse Roots and Muslim Ethics in the 21st Century.
Dr. Al-Deen is a Senior Fulbright Scholar, host of Critical Talk a Muslim Network TV production, executive board member of IMAN (Inner City Muslim Action Network), board member of Soundvision, Muslim Mental Health, Muslim Arc, Greenwood Policy Institute and the American editor for the Muslim Minorities in the West Series for Brill Publishers.
Dr. Abbas Barzegar serves as the Director of the Horizon Forum where he stewards its collaborative and stakeholder-centered research programming. He is a term-member of the Council on Foreign Relations and maintains research and teaching affiliations with Indiana University's Lilly Family School of Philanthropy, Emory University's Masters in Development Program, and George Mason's AbuSulayman Center for Global Islamic Studies. He has years of applied research experience covering transnational Muslim civil society at the intersection of global Islamic revival and geopolitical conflict.
Recent projects he has led include the European Union funded "Bridging Transatlantic Voices" initiative at the British Council USA, the digital archive, "After Malcolm" at George Mason, and the Hijacked by Hate study on US philanthropy and anti-Muslim special interest groups. In addition to numerous articles and book chapters, he is the co-author of Islamism: Contested Perspectives on Political Islam (Stanford). His work has been supported by The European Union, The British Council, The US Institute of Peace (USIP), the Mellon Foundation, The National Endowment for the Humanities (NEH) and The American Council of Learned Societies (ACLS). His commentary and analysis can be found in a variety of print and broadcast media outlets, including CNN, Fox News, The Guardian, The Hill, The Huffington Post, and Aljazeera.