In this episode, Sapelo Square Arts and Culture Editor Ambata Kazi-Nance speaks with author and educator Amani-Nzinga Jabbar about her book, I Bear Witness, the craft of writing, writing about difficult subject matter, and her experiences as a Black Muslim woman writer.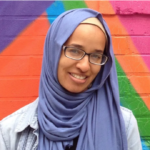 Amani-Nzinga Jabbar is a professor of English, author, marathon runner, health coach, wife, and mother of three children. Born in Brooklyn, New York and raised in New Orleans, Louisiana, she now makes her home in Decatur, Georgia. 
Amani's book, I Bear Witness, is available for purchase on Amazon at https://amzn.to/3u70XZz. 
You can connect with Amani and get updates on her writing on Instagram @authoramani and Twitter @Author_Amani and on Facebook.  
Credits:
On the Square theme music was created by Fanatik OnBeats.
Artwork was created by Scheme of Things Graphics.