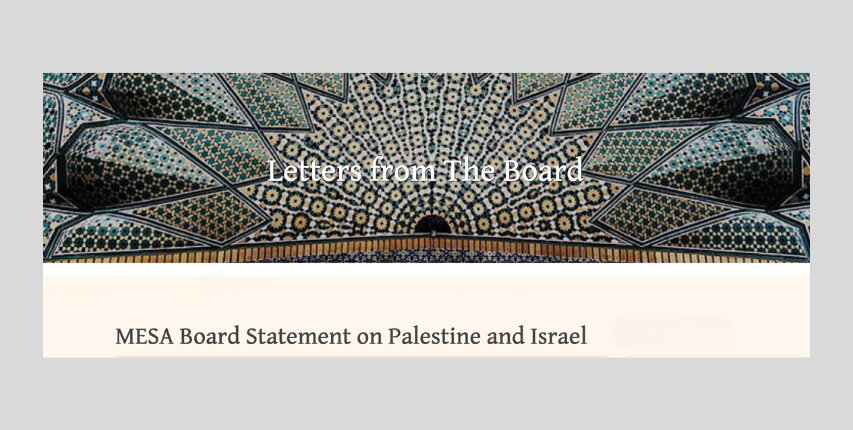 We are sharing the Middle East Studies Association (MESA)'s statement dated October 16, 2023. The original letter can be accessed
here.
The Board of Directors of the Middle East Studies Association of North America is acutely concerned with and heartbroken by the loss of Israeli and Palestinian lives over the last week. There can be no justification for the targeting of civilians. Many of our members have been directly affected and we join them in grieving. We also join all those who are committed to a political solution that offers safety, dignity, and equal rights for Palestinians and Israelis.
As of this writing, the United Nations Office for the Coordination of Humanitarian Affairs (UNOCHA) reports that the Hamas attack of October 7, 2023 and its aftermath has killed 1,300 Israelis and injured another 3,621, with a further estimated 155 or more Israeli (both soldiers and civilians) and some foreign nationals taken hostage by Hamas. Past precedent has shown that besieging the Gaza Strip and indiscriminately bombarding its population and infrastructure kills, maims, and displaces Palestinians, exacerbating the structural violence of Israeli rule and does little to increase the safety of Israelis. The Israeli government's response to the Hamas attack has included uninterrupted bombardment of the Gaza Strip, the prevention of humanitarian aid flow and, most recently, orders that 1.1 million people should evacuate their homes, towns and cities in northern Gaza or face certain death in a ground invasion. The sealing off of the Gaza Strip coupled with the devastation of Gazan infrastructure makes movement in the territory almost impossible and out of the territory unimaginable. The majority of Gazans are themselves refugees from 1948; they are now contemplating a second forcible removal from their homes, in what risks becoming a campaign of ethnic cleansing.

When UNOCHA last released an estimate of the Palestinian casualties on October 15, the bombardment of Gaza had already resulted in 2,670 Palestinians killed, 9,600 more injured, and the displacement of at least 600,000 Palestinians. Israeli bombardment has struck at least 185 educational facilities, including 20 United Nations Relief and Works Agency (UNRWA) schools and 165 Palestinian Authority schools, one of which was destroyed. The Islamic University of Gaza was attacked by Israeli airstrikes. The cumulative effect of the bombardment has resulted in massive and ongoing death, displacement, and destruction, imperiling—among many other things—even the possibility of access to education for generations of Gazan children and students into the indefinite future.

MESA's Board of Directors has previously addressed the broader context, emphasizing how the decades-long Israeli military and government attacks on Palestinian students, teachers, and educational facilities are part of a broader political, administrative, and legal system of racial discrimination and domination—regularly enforced through violence—that has defined the Israeli government's treatment of the Palestinian people. MESA's Board of Directors and its Committee on Academic Freedom have also repeatedly affirmed the need to protect academic freedom in the study, analysis, and debate about what happens in Israel/Palestine.

At a time when our members have much to offer through their expertise to understanding these developments and to providing analyses that might contribute to slowing or stopping the escalation of violence, we are deeply disturbed by the chilling of speech and academic freedom on campuses across North America. Events have contexts and histories, and many of our members view it as their professional role to contextualize and historicize the present situation. For our members in North America, describing, analyzing, and commenting on developments in Israel/Palestine, their causes, and their consequences is in many cases being discouraged or silenced, whether on university campuses, in their communities, or in the media. There has been a swift and dramatic narrowing of permissible speech on Israel/Palestine that strikes at the heart of academic freedom. Many campus leaders at U.S. and Canadian universities have released statements a majority of which exclusively address violence against Israelis, while many among their faculty, staff, students have sought to challenge such statements and present alternative viewpoints. In several troubling instances, these efforts have been met with threats to and vilification of faculty and staff. Individual students and student organizations that have issued statements critical of Israeli policies or expressing solidarity with Palestinians have found themselves subject to harassment, intimidation, and threats to their job prospects and personal safety. Palestinian, Arab, and Muslim students have been increasingly targeted for views, expressed or imputed, and even for their mere identities. Some university presidents have even shut down campuses to prevent pro-Palestinian protests or vigils. Outside groups and organizations are also directly pressuring university presidents to release one-sided statements on the conflict and suppress speech on campuses.

Universities and colleges in North America have the responsibility and capacity to ensure that faculty, staff, and students are free from violence, intimidation, and censorship as they express their views on campuses and for the broader public. Many such institutions have failed in doing so. MESA opposes any discrimination based on identity or political views, including anti-Arab or anti-Muslim racism and anti-Semitism. We call on university leaders and administrations to adhere to these principles and to affirmatively assert and protect the right to academic freedom and freedom of speech on their campuses.

We reaffirm that there can be no compromise of the right and ability of students, faculty, and staff at universities across North America (and elsewhere) to express their viewpoints free of harassment, intimidation, and threats to their livelihoods and safety. We also believe that there is no military solution, and we remain steadfast in our view that the only path forward on the ground is one premised on the equal rights of Palestinians and Israelis to live in dignity and safety.