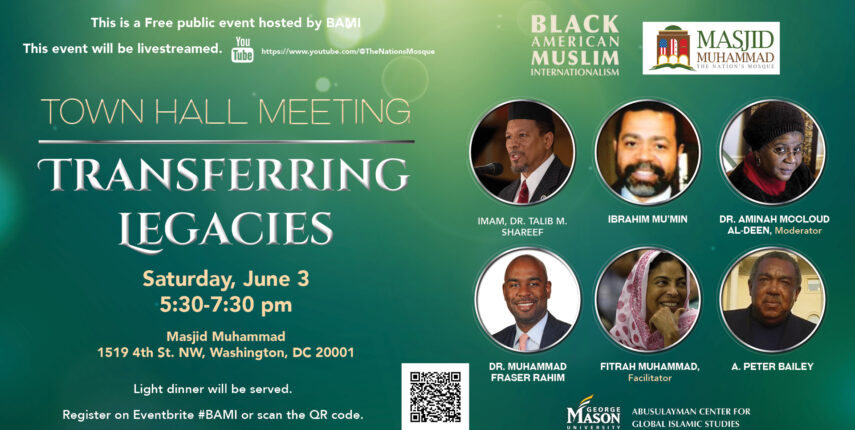 Town Hall Meeting: Transferring Legacies
It is critical for us to talk about our past, present, and the future of our community.
Join us for the Town Hall Meeting: Transferring Legacies on June 3rd from 5:30-7:30 pm at Masjid Muhammad with Dr. Aminah Beverly (McCloud) Al-Deen, A. Peter Bailey, Ibrahim Mu'min, Dr. Muhammad Fraser-Rahim, and Dr. Talib M. Shareef. This event is hosted by BAMI in collaboration with the AbuSulayman Center for Global Islamic Studies at George Mason University and Masjid Muhammad.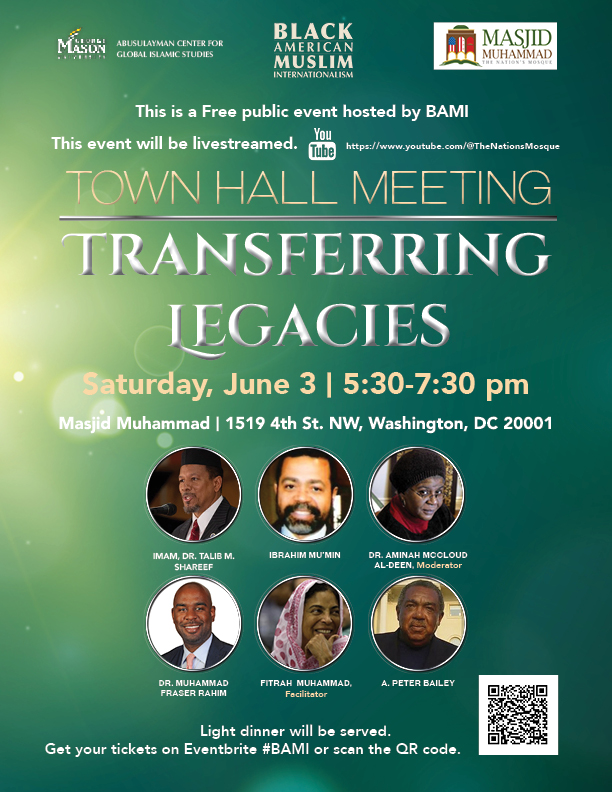 Dr. Aminah Beverly (McCloud) Al-Deen is professor emerita of Islamic Studies in the Department of Religious Studies at DePaul University. In 2006, she founded the United States' first undergraduate baccalaureate program in Islamic World Studies. She is the former Editor in Chief of the Journal of Islamic Law & Culture. Her book publications include: African American Islam, Questions of Faith, Transnational Muslims in America, Introduction to Islam in the 21st Century, Global Muslims in the 21st century, History of Arab Americans: Exploring Diverse Roots and Muslim Ethics in the 21st Century.
A. Peter Bailey is an acclaimed Journalist, Author, and Lecturer. He was a founding member of The Organization of Afro-American Unity (OAAU), organized in 1964 by Brother Malcolm X. Bailey was editor of the OAAU newsletter, Blacklash. He was one of the last few persons to speak with Brother Malcolm X on the day of his assassination (February 21, 1965) and served as one of the pallbearers at his funeral.
Ibrahim Mu'min, born in Columbus, Georgia. Mu'min attended Howard University where he was a student activist and executive director of Shaw Project Area Committee, a Washington, D.C. nonprofit organization which focuses on the development Shaw area.
Dr. Muhammad Fraser-Rahim is the Executive Director, North America for Quilliam International and an Assistant Professor in the Department of Intelligence and Security Studies at The Citadel. Dr. Fraser-Rahim's areas of specialty are on transnational terrorist movements, Counterterrorism/P/CVE, Islamic intellectual history, Islam in America, contemporary theology in the Muslim world and African Affairs.
Dr. Talib M. Shareef is President and Imam of historic Masjid Muhammad, The Nation's Mosque in Washington, D.C. Imam Shareef, is a retired U.S. Air Force member with 30+ years of service; has a Doctorate from Global Oved Dei Seminary and University, where he serves as a professor of Islamic Studies and Director of the Interfaith Council, an MBA from American Intercontinental University, a Diploma from the Imam Muhammad ibn Saud Islamic University, and the Defense Language Institute Foreign Language Center in Arabic and Middle East studies.
For more info and to get your ticket for the town hall meeting, please visit this page.