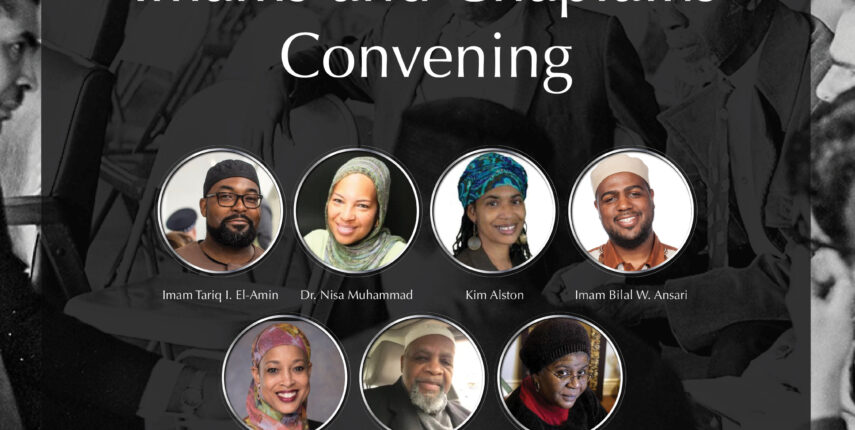 [Black American Muslim Internationalism Project ]
Imams and Chaplains Convening |
Dec 17, 2022 11am-1pm EST | Online | Registration Required
We invite you to the second public sessions  within the BAMI project at AbuSulayman Center for Global Islamic Studies at George Mason University-
Read more about the BAMI project generously supported by the Henry Luce Foundation and led by Dr. Aminah Al-Deen here 
---
Imam Tariq I. El-Amin has served as the Resident Imam of Masjid Al-Taqwa since 2013. He is a second-generation Muslim, and proud alumn of the Sister Clara Muhammad School System. Imam Tariq has used his knowledge as a skilled tradesman (local 1 Ironworker) to direct the rehab of Masjid Al-Taqwa's new home in Chicago's South Chicago community, while also leading its programmatic expansion. Imam Tariq's Islamic education includes private study with scholars, as well as institutional learning at American Islamic College, and  Bayan Islamic Graduate School, where he graduated with a Master of Divinity in Islamic Chaplaincy in May of 2022.
Dr. Nisa Muhammad is Howard University's Assistant Dean for Religious Life.  She is responsible for programming that serves the faith, service, and justice needs of the Howard University community.  Dr. Muhammad organizes Muslim worship services and answers a myriad of challenges from race to religion to relationships. She is also the advisor to the Muslim Students Association, the Youth Justice Advocates, and the Chess Club. Dr. Muhammad is on the executive boards of the ACSLHE (Association for Chaplaincy and Spiritual Life in Higher Education) and the Institute for Muslim Mental Health.  She is the past president of the Association of Muslim Chaplains.
Kim Alston manages special programs, partnerships and projects in Smith College's Center for Religious and Spiritual Life; and directs the Center's  communications strategy. She advises Muslim students and student secular and religious organizations, such as the Muslim Student Association, Al Iman, and the Muslim Intra-faith Diversity Committee. She is passionate about developing programming that supports religious literacy, encourages curiosity and addresses student interests and contemporary issues. She received her undergraduate degree from Boston University, graduated from Clark University with a master's in public administration, and is currently in the Islamic Chaplaincy program at Hartford International University for Religion and Peace.
Imam Dr. Bilal W. Ansari is Assistant Vice President for Campus Engagement at Williams College, Director of Islamic Chaplaincy at Hartford International University, Co-Director of the MA in Chaplaincy, and Faculty Associate in Muslim Pastoral Theology. Dr. Ansari believes in the notion of shepherding as a Muslim form of institutional leadership. His scholarship is based on his decades of work as a practitioner in prisons, hospitals, and in higher education as a professional chaplain. He serves on the board of the Institute of Muslim Mental Health. He worked as a dean at Zaytuna College and now leads in the field of Diversity, Equity, and Inclusion. Dr. Ansari is a second-generation student of Imam WD Muhammad.
Chaplain Tahara Akmal is a board-certified chaplain with the Association of Professional Chaplains and the Manager of Clinical Pastoral Education at MedStar Washington Hospital Center in Washington, DC. Chaplain Akmal is a Visiting Faculty member at Bayan Islamic Graduate School at Chicago Theological Seminary. She earned a BA degree in psychology with a minor in religion from Vanguard University in Costa Mesa, California, and a MA degree in Islamic studies and pastoral counseling from Claremont School of Theology, also in California. Chaplain Akmal is a Ph.D. student at Alvernia University in Reading, Pennsylvania researching Leadership and Chaplaincy.
Imam Frederick Tahufeer Al-Deen is a veteran imam and chaplain having served at city, state and federal correctional institutions in Oklahoma and Illionis. He Is also a certified marriage counselor and has presented on this topic in academic and community gatherings. Imam Frederick consulted ISPU on its Report on Muslim Prisoners and is the co-host of Radio Islam Podcast, "Conversations."
Dr. Aminah Beverly (McCloud) Al-Deen is a research professor and PI of the BAMI Project at the AbuSulayman Center for Global Islamic Studies at George Mason University and  professor emerita of Islamic Studies in the Department of Religious Studies at DePaul University. In 2006, she founded the United States' first undergraduate baccalaureate program in Islamic World Studies. She is the former Editor in Chief of the Journal of Islamic Law & Culture. Her book publications include: African American Islam, Questions of Faith, Transnational Muslims in America, Introduction to Islam in the 21st Century, Global Muslims in the 21st century, History of Arab Americans: Exploring Diverse Roots and Muslim Ethics in the 21st Century. Dr. Al-Deen is a Senior Fulbright Scholar, host of Critical Talk a Muslim Network TV production, executive board member of IMAN (Inner City Muslim Action Network), board member of Soundvision, Muslim Mental Health, Muslim Arc, Greenwood Policy Institute and the American editor for the Muslim Minorities in the West Series for Brill Publishers.