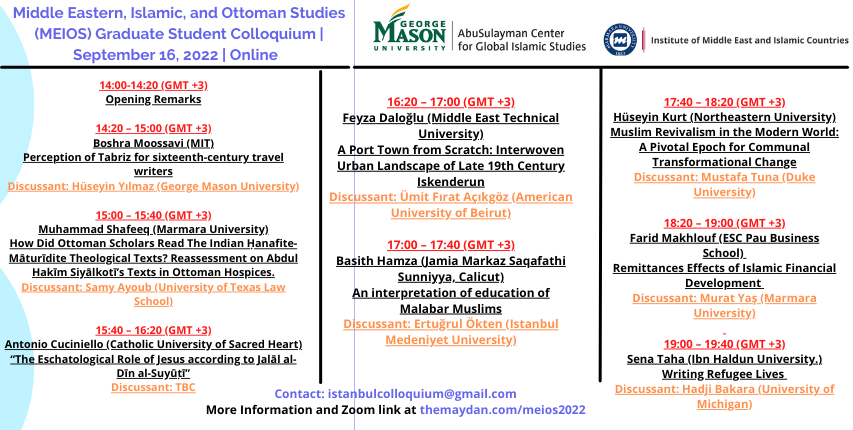 Middle Eastern, Islamic, and Ottoman Studies Graduate Student Colloquium 2022 |  September 16, 2022
 organized by
The AbuSulayman Center for Global Islamic Studies George Mason University
The Institute of Middle East and Islamic Countries Studies Marmara University
Presenters
Antonio Cuciniello      Catholic U. Of Sacred Heart
Basith Hamza              Jamia Markaz Ssaquafathi Sunniyya, Calicut
Boshra Mossavi          MIT
Farid Makhlouf           ESC Pau Business School
Feyza Daloğlu Middle East Technical University
Hüseyin Kurt               Northeastern University
Muhammad Shafeeq Marmara University
Sena Taha                   Ibn Khaldun University
Discussants
Ertuğrul Ökten            Istanbul Medeniyet Univeristy
Hadji Bakara               University of Michigan
Hüseyin Yılmaz           George Mason University
Murat Yaş                   Marmara University
Mustafa Tuna             Duke University
Ümit Fırat Açıkgöz      American University of Beirut
Samy Ayoub               University of Texas Law School
Online Venue:
https://harvard.zoom.us/s/91740644565?pwd=cS9aeDVQSUR0Y09WMGFCSWk2WGZjZz09
contact: istanbulcolloquium@gmail.com
Program
14:00-14:20 (GMT +3)
Opening Remarks
14:20 – 15:00 (GMT +3)
Boshra Moossavi (MIT)
Perception of Tabriz for sixteenth-century travel writers
Discussant: Hüseyin Yılmaz (George Mason University)
15:00 – 15:40 (GMT +3)
Muhammad Shafeeq (Marmara University)
How Did Ottoman Scholars Read The Indian Ḥanafite-Māturīdite Theological Texts? Reassessment on Abdul Hakīm Siyālkotī's Texts in Ottoman Hospices.
Discussant: Samy Ayoub (University of Texas Law School)
15:40 – 16:20 (GMT +3)
Antonio Cuciniello (Catholic University of Sacred Heart)
"The Eschatological Role of Jesus according to Jalāl al-Dīn al-Suyūṭī"
Discussant: TBA
16:20 – 17:00 (GMT +3)
Feyza Daloğlu (Middle East Technical University)
A Port Town from Scratch: Interwoven Urban Landscape of Late 19th Century Iskenderun
Discussant: Ümit Fırat Açıkgöz (American University of Beirut)
17:00 – 17:40 (GMT +3)
Basith Hamza (Jamia Markaz Saqafathi Sunniyya, Calicut)
An interpretation of education of Malabar Muslims
Discussant: Ertuğrul Ökten (Istanbul Medeniyet University)
17:40 – 18:20 (GMT +3)
Hüseyin Kurt (Northeastern University)
Muslim Revivalism in the Modern World: A Pivotal Epoch for Communal Transformational Change
Discussant: Mustafa Tuna (Duke University)
18:20 – 19:00 (GMT +3)
Farid Makhlouf (ESC Pau Business School)
Remittances Effects of Islamic Financial Development
Discussant: Murat Yaş (Marmara University)
19:00 – 19:40 (GMT +3)
Sena Taha (Ibn Haldun University.)
Writing Refugee Lives
Discussant: Hadji Bakara (University of Michigan)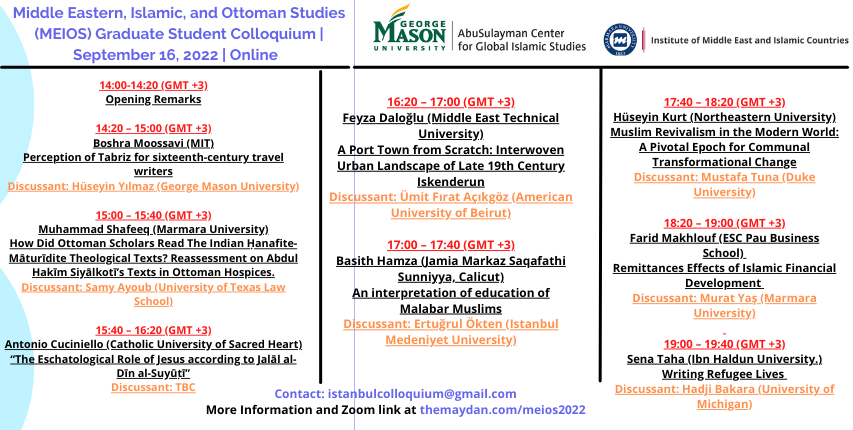 ---
*this CFA was posted on June 25, 2022*
Ali Vural Ak Center for Global Islamic Studies at George Mason University and the Institute of Middle East and Islamic Countries Studies at Marmara University invite proposals for the third meeting of the Annual Graduate Colloquium in Middle Eastern, Islamic, and Ottoman Studies (MEIOS) to be held online on September 16-17, 2022. The Colloquium welcomes papers related to the contemporary Middle East, Islamic Studies and Ottoman Studies from any historical period, including disciplinary approaches originating from history, history of arts and architecture, literature, religious studies, political science, sociology and anthropology.
Middle Eastern, Islamic, and Ottoman studies have been rapidly expanding in recent decades, in theme, scope, specialty, and researcher demographics. Expansion and specialization at once make it increasingly more difficult to have broad based conversations on common themes.
The Colloquium will bring together advanced PhD students who have already passed their doctoral examinations at the time of application and scholars whose expertise closely align with accepted papers. The Colloquium will host graduate students to present their ongoing research to a peer audience with diverse specialties and disciplinary expertise, exchange views and perspectives, and engage in a constructive discussion in a multidisciplinary intellectual setting.
Participants are encouraged to revise their papers based on feedback they receive at the Colloquium  and submit for publication at,  Maydan (www.themaydan.com), the online publication of the CGIS at GMU. A modest honorarium will be paid for papers accepted and published on the Maydan website.
---
Submissions
Please submit proposals that include
an approx. 250-word abstract with a tentative title,
short CV, and
the name of proposed discussant.
to istanbulcolloquium@gmail.com
*Proposals may be submitted for individual papers or pre-organized panels.
**Papers on ongoing research are welcome. Papers in the form of thesis proposals alone will not be considered.
The organizing committee will make an effort to match presenters with the most suitable discussants. It is advised, therefore, that presenters contact their preferred discussants in advance.
For questions and inquiries write to the program coordinator Didar A. Akbulut at didarayseakbulut@gmail.com
---
Timeline
Application Deadline-extended-: August 15, 2022
Notification of acceptance: August 22, 2022
Full Paper Submission: August 29, 2022
Colloquium date: September 16-17, 2022
---