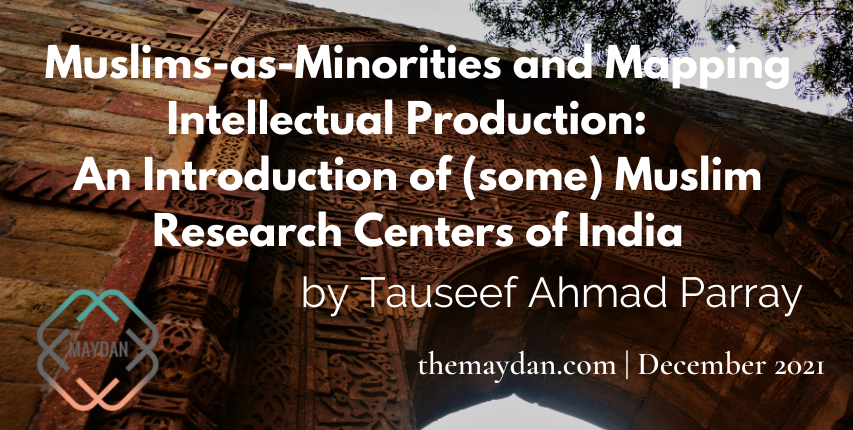 Muslims in present day India constitute 'the largest religious minority' in the whole world. India is the second most-populous country, seventh largest country by area, and is considered the 'world's largest secular democracy'. As per the Worldometer, Muslims (numbering over 209 million) constitute 14.6% of India's total population (1,396,049,997). This has been summarized beautifully in a recent study (by Professor Muqtedar Khan and Rifat Binte Lutful published in Religions, 12(9), 693, 2021) as follows: "If Indian Muslims, who are about 200 million, constituted a country, they would be [the] eighth most populous nation in the world".
Muslims of India have contributed in various ways to different aspects of society. In academic and scholarly pursuits as well, Muslim scholars of modern (independent) India have significantly expanded many domains of knowledge, especially in the diverse fields of Islamic sciences—ranging from the study of the foundational texts of Islam (the Qur'an and Hadith) to Prophetic biography (Seerah), and from legal thought and jurisprudence (Fiqh) to Islamic history of the ancient and recent past. This has continued with much rigor and precision down to the present day as well. One key manifestation of these contributions is the existence of various research institutes and centers (academies), especially in the areas of religious and social sciences and the socio-educational advancement of Muslims.
Developing centers devoted to research, in the form of 'Research Centers', 'Research Institutes', 'Academies' or 'Think Tanks' is of course a global phenomenon. According to the 2019 Global Go To Think Tank Index Report by 'Think Tanks and Civil Societies Program' (TTCSP) of the Lauder Institute, University of Pennsylvania (USA), the 'Global Distribution of the Think Tanks' is as follows: Europe (2219), North America (2058), Asia (1829), South & Central America (1023), and Sub-Saharan Africa (612). This report also provides a list of 'Countries with the highest number of Think Tanks,' which is topped by USA (1872) then follow by India, ranked second (509), then China (507), UK (321), and Argentina (227) in the 'Top-5', respectively. Beyond Think Tanks, there are thousands of research centers and academic forums or platforms across the globe, with India home to a sizable portion. It can fairly be said, then, that the nature of India's academic centers is worthy of study, by sheer market share if nothing else. This essay focus on one particular branch of those centers: key Muslim research institutes of India, surveying their history and development in chronological order, with a focus on their objectives, vision and mission, as well as their research activities. The study gives insight into not only these specific institutions, but also the broader intellectual trajectory of Indian Muslim society. As Fathi Hasan Malkawi contends in his Mapping Intellectual Building and the Construction of Thought and Reason, it is the existence of such institutes that "reflects the richness of the intellectual building of any said society," for they not only "play an important role in generating and developing ideas through collective research projects," but also "provide an epistemological basis for making appropriate decisions or providing decision-makers with the necessary validations to make the most suitable decision" (184-85).
Darul Musannefin Shibli Academy (DMSA) was first thought up by Maulana Shibli Numani (d. 1914) and established by his disciples, among them Maulana Hamiduddin Farahi (d. 1930), Allama Syed Sulaiman Nadvi (d. 1953), Masud Ali Nadvi and Abdul Salam Nadvi, on the 21st of November, 1914 at Azamgarh (Uttar Pradesh, India). Darul Musannefin (literally 'Abode of Litterateurs') is one of the oldest surviving Muslim academies in India, and has now grown into an international center of learning. DMSA (which completed its centennial in November, 2014) is widely acknowledged as an academy of letters specializing in research on Islamic learning, medieval Indian history and Oriental studies.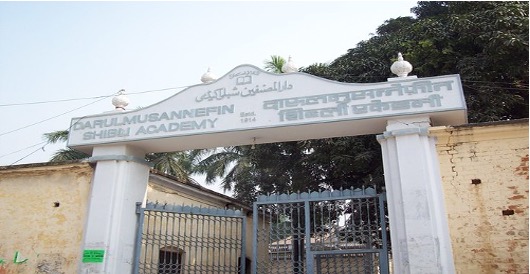 On the 29th of November 2014, Dr. Javid Iqbal Khan wrote on the establishment of this Academy in The Milli Gazette (a periodical from New Delhi, India), describing it in these words: three days after Shibli's death on November 18th 1914, his cherished disciples and admirers, assembled at his house and "laid the foundation of a society called Ikhwanus Safa [Ikhwan al-Safa] (brethren of purity, the name of a society of Abbasid intellectuals), which may be described as the nucleus of Darul Musannefin Shibli Academy", and on "21 July, 1915, the Ikhwanus Safa society was registered with the new name of 'Darul Musannefin Shibli Academy'" (italics added). This is substantiated by the views of Dr. Muhamamd Ilyas al-Azmi (author of Darul Musannefin's Historical Contribution, published by Khuda Baksh Oriental Public Library, Patna, India 2002, 3-4), who further mentions that for this society called Ikhwanus Safa, Maulana Farahi was nominated as President, Maulana Sulayman Nadvi as Secretary and Maulana (s) Masud Ali, Abdul Salam, and Shibli Mutakallim Nadvi as its members.
The major aims and objectives of DMSA, as summarized by Professor Ishtiyaq Zilli in his "Darul Musannefin Shibli Academy: Present Needs and Future Plans," include bringing together a body of scholarly authors, providing a congenial environment for scholars to write, compile, and translate high quality works on Islamic studies, Oriental studies, history and literature, and organizing the printing and publication of works on the aforementioned disciplines. The DMSA "also aimed at a better presentation of Islam, understanding of Holy Qur'an in the light of modern reasoning and arguments, study of modern sciences, and [the] promotion of social and political harmony between the Hindus and Muslims."
Since its founding, DMSA has mainly focused on conducting research, publishing books, organizing seminars and conferences (including International Seminar on "Islam and Orientalist" in 1982), and publishing a monthly Urdu periodical, Ma'arif (since July 1916). Ma'arif is not only one of the oldest regularly-published periodicals in the Urdu language on Islamic studies, it is rightly considered as 'the oldest Urdu literary and research journal in South Asia.' The journal is 'respected for the standard of scholarship and research it has maintained' and thus has 'attracted the elite of intellectual life' (Ma'arif, Back Page), including great authors, researchers, and theologians. Several renowned scholars of India have served as its editors, namely Allama Syed Sulaiman Nadvi (1915-50); Maulana Shah Moinuddin Ahmad Nadvi (1951-74), Syed Sabahuddin Abdur Rahman (1975-87), and Maulana Ziauddin Islahi (1988-2008). Maulana Farahi was its first President while Allama Nadvi served as its first Secretary. Ma'arif has been described (by Dr. Khan and Professor Zilli) "as a shining moon which effuses knowledge of Islamic sciences and the craving of Western science," a journal which has "earned international reputation for its well-researched papers on various aspects of Indian and Islamic history and culture, Qur'anic sciences, poems, obituaries, educational information, reviews of books, etc."
Additionally, the DMSA has published over 250 books, both in original and translated forms, mainly focusing on the fields of Islamic history and culture, Prophetic biography, literature, medieval Indian history, and Oriental studies. Numerous prestigious scholars have been associated with these publications since the inception of this Academy, and many have been associated with the Academy as Research Fellows. Regarding the DMSA's academic output, especially its contribution to the history of Islam in Europe, Dr. Arshad Islam (IIUM, Malaysia) writes: "the world famous Islamic institute Darul Musannefin (Shibli Academy)" is:
research-oriented, specializing in research on Islamic learning, medieval Indian history and oriental studies … continued Shibli's mission of propagating books in Urdu that armed Indian Muslims against the ideological onslaught of the colonialists, with over 250 serious and scholarly publications and the journal Ma'arif, continuously issued since 1916, many of which focused on Muslim encounters with Europe and the intellectual contributions of Islamic civilization to the West, including Tarikh Daulat-i-Usmania (History of the Ottoman State) by Mohammad Uzair, Tarikh Saqlia (History of Muslim Rule in Sicily) and Tarikh Andlus (History of Muslim Spain) by Riyasat Ali Nadwi.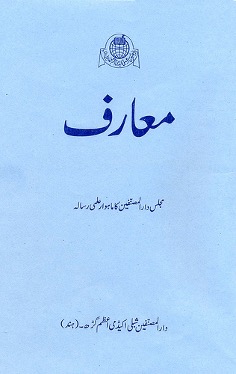 Mr. Mohammad Hamid Ansari (former President of India) is currently serving as the DMSA's President and Professor Ishtiyaq Zilli (retired professor of History from Aligarh Muslim University, India) is its Secretary and Director as well as the Editor of Ma'arif alongside Maulana Umair Siddiqui Daryabadi who is serving as its joint editor. The journal itself is currently in its 208th volume (November 2021 issue was numbered as Vol. 208, No. 5).
The DMSA has featured in Amaresh Datta's 2-volume Encyclopaedia of Indian Literature (Sahitya Akademi, 1988; II: 1748), and has been described as an "excellent seat of learning" which specializes in conducting "research on Islamic learning, medieval Indian history and oriental studies" in an  articles published in Times of India (daily newspaper) on 14th November, 2014—the day when DMSA completed its 100 years.
With this significant academic output, as well as the continued prestige the DMSA holds, it would not be an exaggeration to state, as Dr. Ilyas al-Azmi (a long term fellow of DMSA) puts it, that this Academy is "a pleasant culmination of Allama Shibili's great academic, literary, religio-historical contribution as well as a practical manifestation of his wishes and ideas," which has been "successful…in achieving its set objectives." The DMSA is not just "an institute or organization, but a living and enlightening movement; a realm of knowledge and wisdom, which has made an incredible academic contribution in the literary aspects, research and criticism and in history and civilizational studies" (Al-Azmi, Darul Musannefin's Contribution to History Writing, 2002: 1, 4, 5).
In short, Darul Musaniffen Shibli Academy is not only one of the oldest surviving research academies specializing in Islamic studies, medieval Indian history and Oriental studies, but is, in true sense, one of the greatest historical academic assets of the Muslims which needs to be preserved, supported and nurtured.
The Idara–e-Tahqeeq-o-Tasneef-e-Islami (ITTI; Institute of Islamic Research and Training [IIRT]), was established in 1981 at Aligarh, India as a center for Islamic research, publications, and training. The objectives of the Institute are: publishing research monographs on Islam vis-à-vis contemporary challenges faced by Muslims, both at the global level and in India; translating important Islamic works into Urdu and vice-versa; training talented young researchers for conducting research in Islamic studies and writing books; publishing the research works of scholars of the Institute as well as those produced by scholars of eminence; holding conferences, seminars, extension lectures, etc.; and providing space and scholarships (financial grant) to (young) researchers.
Since 1982, the Institute also publishes an Urdu quarterly periodical, namely Tahqeeqat-e-Islam on Islam in Urdu language. The objectives of the journal are to present Islamic teachings in rational manner and scientific style; reach to consensus through intellectual discussions; and eradicate misunderstanding about Islam and to present Islam as a revolutionary system of life. Major fields covered in the journal include Qur'an and its exegesis, Hadith, Prophetic biography, jurisprudence, and other religious sciences, as well as Islam and contemporary challenges, and other subjects falling in the domain of humanities and social sciences. The journal's editor is Mawlana Jalal-ud-Din Umari and its Assistant Editor is Dr. Muhammad Razi ul Islam Nadwi. Currently the publication is running its 40th volume (and its latest issue, vol. 40, issue 4, October-December 2021 was published recently).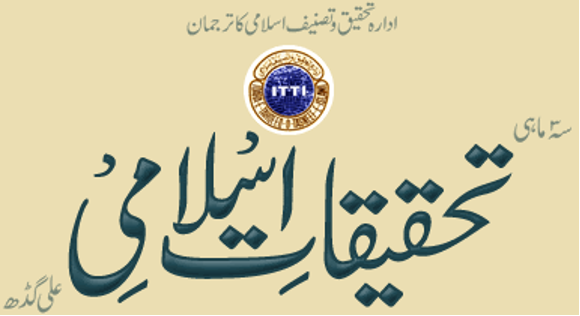 Over these decades, the institute has provided funding and space to hundreds of (young) researchers, has organized conferences and seminars on themes of contemporary relevance, and has published hundreds of monographs on diverse themes related to Islam and Muslims vis-à-vis contemporary issues.
The Centre for Studies on Science (CSOS) was founded in 1982, followed one year later by the founding of the Muslim Association for the Advancement of Science (MAAS; 1983). Founded by Dr. Zaki Kirmani (b. 1950), along with his colleagues including (his brother) Dr. Riaz Kirmani (b. 1953) and Dr. Rais Ahmad (b. 1947)—all having background in the natural sciences—CSOS promotes debate on Islam and science as well as science and civilization studies through seminars and workshops. While CSOS was founded for "conducting research and training on Islam-science and related issues," MAAS was formed "for cultivating similar ideas among working scientists." "Both CSOS and MAAS exist simultaneously and have mutually supportive objectives," writes Dr. Stefano Bigliardi (presently an Assistant professor of philosophy at Al-Akhawayn University in Ifrane, Morocco) in his 2016 study.[1]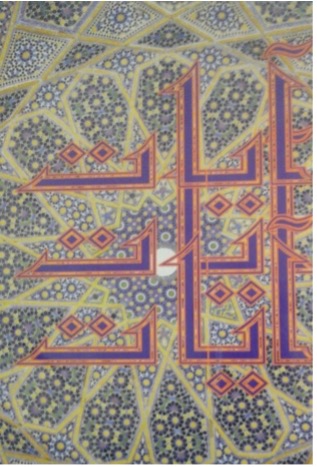 CSOS conducts seminars, workshops, and lectures and also publishes and translates books on Islamic civilization and more specifically on Islam and science through Averroes Academy, which aims to bring out high quality intellectual and academic work through translations of standard books or by conducting original research. SOS publishes journals as well: among them the Journal of Islamic Science (1985—2006), as well as Ayaat, literally 'Signs' (since 1990), an Urdu science journal which publishes both original papers as well as translations of English works on the Islam and science discourse. One of the distinctive features of the CSOS is that it provides free guidance to all researchers studying any aspect of the Islam and science discourse.
CSOS is chaired by Dr. Zaki Kirmani—who holds a PhD in Chemistry from the prestigious Indian Institute of Technology (IIT) New Delhi—and has been actively contributing to discourses on Islam, science and society in the contemporary Muslim world. Other members who have joined Dr. Kirmani in his endeavors are Kaleemur Rehman, Masood Ahmad, and M. Rafat. Some of the books translated by Dr. Kirmani himself and published through Averroes Academy are: Umar Chapra's Muslim Civilization; Tamim Ansary's Destiny Disrupted; S. Naquib al-Attas' Islam and Secularism, Ziauddin Sardar's What do Muslims Believe? Mustafa Akyol's Islam without Extremes, and Ahmad Y. al-Hassan and Donald R. Hill's Islamic Technology—An Illustrated History.
The Idarah 'Ulum al-Qur'an (IUQ; Institute of Qur'anic Sciences: IQS) was established in 1984 in Aligarh, India by alumni of the Madrasah al-Islah (Azamgarh, UP, India). Aimed at promoting research in the Qur'anic Studies and working for the dissemination of the teachings of the Qur'an, IQS tries to find solutions for the problems facing the Muslim society in particular and the humanity at large, in the light of the guidance provided by it. The major aims and objectives of the institute are to: a) make scholarly attempts to find solutions for problems confronting the Ummah and humanity at large in light of the teachings of the Qur'an; b) revive and revitalize the Islamic religious sciences and purify and Islamize the modern sciences in the light of the teachings of the Qur'an; and c)research important issues and themes connected with the Qur'an.

To achieve these aims, the institute has been publishing books on issues and related to the Qur'an and its worldview, establishing a reference library with a special focus on Qur'anic studies, arranging for the training and supervision of students to conduct research in the area of Qur'anic Studies and providing the necessary stipends and scholarships for that purpose, and organizing panel discussions and symposia on Qur'anic themes. Since July 1985, the institute has also been publishing in Urdu a Bi-Annual Journal 'Ulum al-Qur'an (Urdu: Shashmahi Majallah Ulum al-Qur'an), devoted to research specifically focused on different aspects of Qur'anic Studies. The publication is considered one of the standard Urdu language academic journals publishing high quality scholarship on Qur'anic Studies.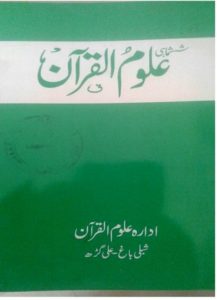 Apart from this journal, IUQ has published a number of books on Qur'anic studies, many of which are based on the various activities of the institute, including annual seminars and conferences, special journal publications, and research projects pursued and/or sponsored by the institute and its members. Professor Ishtiyaq Ahmad Zilli  and Professor Zafarul Islam Islahi are currently serving as President and Vice-president of IUQ and are also Editor-in-Chief and Editor of the journal, respectively.
The Institute of Objective Studies (IOS) was established in 1986 in New Delhi, India "with a view to promote empirical and conceptual research," as mentioned in its about us statement, "on ideologies and problems relevant to Indian polity, society, economy, religion, and culture" with a focus "on the problems of Muslims and other minority groups", ranging from "the problems of development processes, community relations" to "social tensions, status of women, etc." Over the years, IOS has been lauded for its academic objectivity, and has received recognition for its academic activities and achievements from the 'Economic and Social Council' (ECOSOC) of the UN. The institute has tried to "fill the academic vacuum in approaching societal issues faced by Indian in general and Muslims in particular" and has "provided a platform for serious intellectual endeavor in the areas of Social Sciences and Humanities."
The IOS is registered under the Societies Registration Act, 1860 as a "society for [the] promotion of knowledge" and functions in a rather fascinating manner through three layers of organization structure. Because of the impact this structure has on their academic output, a brief survey of this structure is presented below. Moreover, keeping in view the activities, functions, dynamism, and the coverage of areas/ fields, IOS works in, a detailed profile of it is provided in this essay. The IOS's organizational framework includes a 'Governing Structure' (which, as per its Memorandum of Association, consists of two bodies: the General Assembly and the Governing Council), an 'Academic Structure' (which includes Academic Committees, local chapters, the Review and Publication Committee and the Scholarship Committee), and 'Administrative Structure'.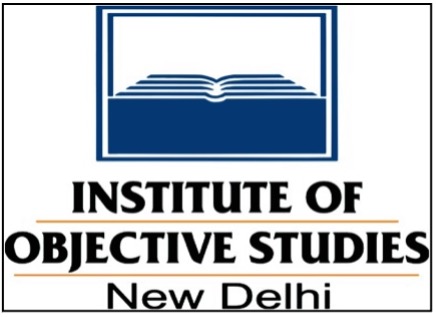 Among these bodies, one vital organ of the IOS is its Academic Committees, which are divide into the social sciences, humanities, and law, and seek to supervise the academic activities of the IOS. Their main functions include advising the institute about the activities and programs to be undertaken by it in those specific academic areas, planning various long-term and short-term research projects, and evaluating the projects and activities sponsored and undertaken by the IOS.
Another significant branch is its Chapters, which have been established in five central cities in India with the aim to focus on their respective regions by actively pursuing advancement of the IOS objectives. The chapters consist of the Aligarh Chapter (Aligarh, UP), the Calicut Chapter (Kerala), the Chennai Chapter (Tamil Nadu), the Kolkata Chapter (West Bengal), and the Patna Chapter (Bihar). These chapters hold conferences, seminars, workshops, symposia, lectures, discussions and other special programs, in addition to recommending students for scholarships and fellowships, arranging for the orientation of the scholarship awardees and other research scholars, developing liaisons with educational and research institutions located in their respective regions, maintaining local research libraries for the benefit of scholars, undertaking of research projects assigned by the IOS, and promoting objectives of the IOS.
The IOS provides scholarships (financial grant), conducts seminars and conferences, and publishes books, monographs, and newsletters as well. Besides publishing monographs, IOS also publishes three research journals: the Journal of Objective Studies (JOS), the Religion and Law Review (RLR), and Mutala'at. The JOS is a quarterly journal with the objectives of: promoting studies on basic conceptual issues, providing a forum for scholarly discussion on social, political, economic and humanistic issues, and promoting and publishing empirical studies on issues relevant to minorities in general and Muslims in particular. The RLR is a bi-annual peer-reviewed legal periodical in publication since 1992 (with Professor Tahir Mahmood as its founding Editor). Covering scholarly discussions on various aspects of religion, law and other socio-legal issues, the RLR accords particular importance to the study of issues and events of contemporary concern. Besides original research papers, it publishes note comments, report surveys, critiques, and reviews as well. The main objectives of the RLR are to: promote research on basic legal and social issues, provide a forum for discussion on various aspects of law and religion, highlight the issues relating to freedom of religion in different legal systems, study the contribution of religion to law, examine the nature and extent of regulation of religious activities and religious institutions by legal systems, analyze state action vis-à-vis religious groups, and discuss issues regarding religion and human rights. The current Editor of the RLR is Professor M. Afzal Wani (who, besides being Vice-Chairman of IOS, is presently Professor of Law at Indraprastha University, New Delhi). Mutala'at (a quarterly Urdu journal), pursues the same objectives as the JOS, but through the channel of providing a common platform to intellectuals and researchers writing in Urdu.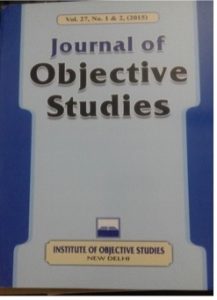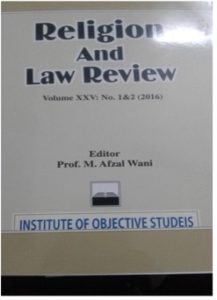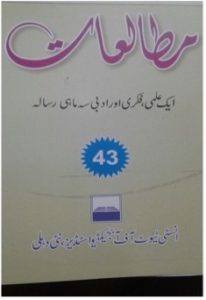 Dr. Mohammad Manzoor Alam (b. 1945) is the current Chairman of IOS, Prof. M. Afzal Wani is Vice-Chairman, and Prof. Z. M. Khan is its General Secretary. Through steady publications and programs, and by widening the scope of its endeavours, the IOS has gained recognition in various relevant quarters at the (inter)national level.
The K. A. Nizami Centre for Quranic Studies (KAN-CQS; hereinafter shortened as 'CQS') is one of the prime academic centers of Aligarh Muslim University (AMU), and is focused on "the study of Quran and related subjects." Named after the reputed historian of South Asia and Islamic studies, Professor Khaliq Ahmad Nizami (1925-97), the Centre's establishment was approved in 1998 and inaugurated in 2012. As noted in their official website, the CQS is committed to "the advancement of academic excellence in teaching, research and publication," and provides "a meeting point between the Islamic and Western worlds of learning." Its major 'aims and objectives' are promoting research in the field of Qur'anic exegesis, furthering the educational and cultural advancement of Muslims of India, providing an academic forum for scholars whose interests focus on any aspect of the Qur'an and enabling students of the Qur'an to gain or renew their acquaintance with the latest developments in the field of Qur'anic Studies.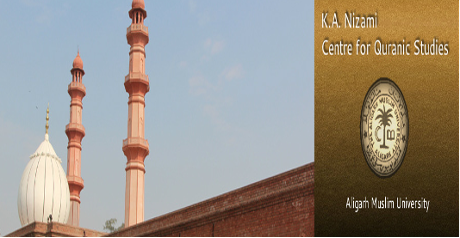 The CQS has been active in organizing seminars, conferences and lectures, as well as in publishing books on various aspects of Qur'anic Studies. Additionally, in 2018 the CQS started a bi-annual academic research e-journal, Aligarh Journal of Quranic Studies (AJQS; ISSN: 2582-0796)—its inaugural issue was published in Winter 2018 and includes scholarly papers from young and senior scholars from both India and abroad.
Besides this journal, the CQS has over the last few years published hundreds of books and booklets in Urdu, English and Hindi on Qur'anic Studies (a list of which is available here). Some important works published by CQS in English are: Bruce B. Lawrence's Abdullah Yusuf Ali's Translation of the Quran: An 80-Year Retrospective (2013); Muhammad Matloob Khan's Personality Development in the light of Quran and Hadith (2016); Abdur Raheem Kidwai's God's Word, Man's Interpretations: A Critical Study of the 21st Century English Translations of the Quran (2018); Sajid Shaffi's 21st Century Quranic Studies in English: A Bibliography (2018) and Academic Research on the Quran: A Critical Bibliography (2019); Dr. Abdul Kader Choughley's How to Study the Quran: Sayyid Abdul Hasan Ali Nadwi's Approach (2018) and Sayyid Abdul Hasan Ali Nadwi's Contribution to Quranic Studies (2018); Nazeer Ahmad Ab. Majeed's Quran Interpretation in Urdu: A Critical Study (2019); Tauseef Ahmad Parray, the present writer's Recent Trends in Qur'anic Scholarship (2020) (for more details, see my essay and an article, respectively, published by The Maydan on 16th October 2020 and Greater Kashmir, J&K on 26th December, 2020).
Moreover, the CQS has also introduced many undergraduate and graduate courses on Qur'anic recitation, the recensions of the Qur'an and Muslim Chaplaincy, which are offered to students wishing to improve their knowledge of the Qur'an.
The Founder Director of the CQS was Professor Ahtisham Ahmad Nizami (2007-2017) and its current Director (since April 2017) is Professor Abdur Raheem Kidwai, who is also Editor-in-Chief of AJQS (presently in its 4th volume: vol. 4, issue 1, was published in March 2021).
Having provided an outline and description of six important Muslim research centres and academies in India, it is fair to say that they reveal "the richness of the intellectual building" of Indian Muslims, and in Fathi Hasan Malkawi's words, all of them are collectively playing significant roles in "generating and developing ideas through collective research projects"(185). As demonstrated through the survey of their work, these institutes are great assets to the Indian Muslim community, and should be preserved and nurtured. As for the future, there is always room for growth, and further efforts should be made to make these institutes even more dynamic and vibrant to establish more such academies.
[1] Two book chapters and an essay about CSOS and MAAS—their background and the thought that its founders propagate—were published by Dr. Abdul Wasay Bhat in 3 volumes Challenges to Religions and Islam (Vol. II, 2007: 670-715), by Dr. Bigliardi in Yiftach Fehige's Science and Religion: East and West (Routledge, 2016: 174-86), and by Dr. Zaki Kirmani in Social Epistemology Review and Reply Collective (SERRC; vol. 4, no. 10, 2015: 33-56).
---
---