Call for Papers 2020: Graduate Colloquium in Ottoman Studies | August 7-8, 2020- Online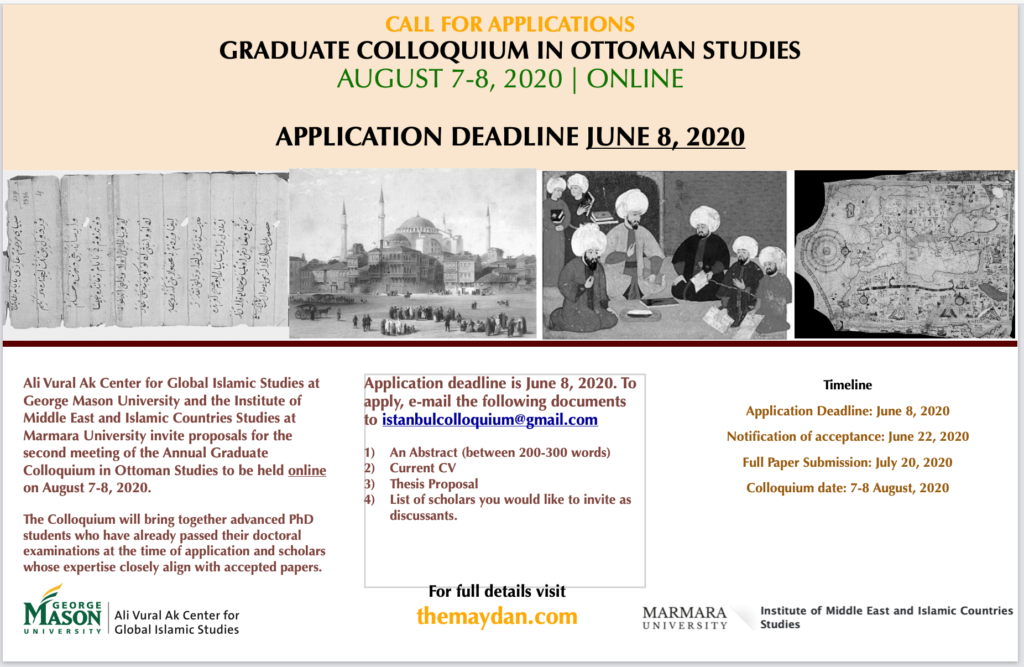 ---
The Institute of Middle East and Islamic Countries Studies at Marmara University and Ali Vural Ak Center for Global Islamic Studies at George Mason University invite proposals for the second meeting of the annual Graduate Colloquium in Ottoman Studies to be held online on August 7-8, 2020.
The Colloquium will bring together advanced PhD students who have already passed their doctoral examinations at the time of application and scholars whose expertise closely align with accepted papers.
We are motivated by the understanding that the ever-growing community of researchers and graduate students of the Middle East would benefit immensely from a new venue of interdisciplinary conversation and discussion of exciting new work. The Colloquium aims at bringing together advanced graduate students in these fields and provide a fruitful platform for presenting ongoing research, exchanging new ideas and furthering the much needed constructive discussion and conversation in a collegial atmosphere.
The Colloquium welcomes papers related to any part of Ottoman Studies including history, arts and architecture, archeology, and literature. Papers on ongoing research are welcome. Papers in the form of thesis proposals alone will not be considered. Selected papers will be invited to be published at the Maydan [https://themaydan.com], the online publication of Ali Vural Ak Center for Global Islamic Studies at George Mason University.
Application deadline is June 8, 2020. To apply, email the following documents to istanbulcolloquium@gmail.com 
An Abstract (between 200-300 words)
Current CV
Thesis Proposal
List of scholars you would like to invite as discussants.
Selected presenters will be sent a notification of acceptance on June 15, 2020.
For questions, please write to us at istanbulcolloquium@gmail.com.
Timeline
Application Deadline: June 8, 2020
Notification of Acceptance: June 15, 2020
Full Paper Submission: July 15, 2020
Colloquium Date: 7-8 August, 2020
---