The 17th Annual Duke-UNC Middle East and Islamic Studies Graduate Student Conference was held at UNC on 29 February 2020. The theme for this year was – Who Speaks for Islam? Approaches to Authority within the Academy and Beyond.
The 2020 conference brought together graduate students across many disciplines – from religious studies to sociology – as well as activists and scholars working outside the academy who are thinking through how their interests in Islamicate topics and Muslim communities relate to the broad question posed by this year's conference: who speaks for Islam? As graduate students of UNC-Chapel Hill, we have been similarly preoccupied by this question as we face potential threats to our academic freedom in the current political environment, as well as with an eye to how governments across the world continue to demonize Muslims. This conference provided a forum to discuss how power impacts and is mutually impacted by Islam before a large and engaged audience.
"We received around 40 applications from around the world and were excited to have been able to host nine student participants this year…"
We received around 40 applications from around the world and were excited to have been able to host nine student participants this year: Lela Ali, Alexandra Bayer, Kemal Budak, Lien Iffah Naf'atu Fina, Magda Mohamed, Laila Noureldin, Shreya Parikh, Abbas Rattani, and Firdevs Canbaz Yumusak.[1] We were grateful for the professors who acted as respondents to each panel: Professors Cemil Aydin, Julianne Hammer, and Omid Safi. Finally, we were delighted to have Professor Kecia Ali from Boston University present the Keynote speech, during which she focused on the gendered nature of citational practices. The audio recording of her full speech is hosted at Status/الوضع Audio Journal.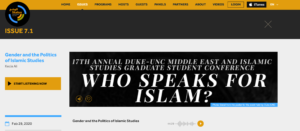 This event was hosted by the Islamicate Graduate Student Association (IGSA) and organized by Yasmine Flodin-Ali, a second-year PhD student in Religious Studies at UNC and this year's IGSA president, along with Baiquni Baiquni, Arpan Bhandari, Kylie Broderick, Arianne Ekinci, Hina Muneeruddin, and Shreya Parikh – all PhD students at UNC.
Panel One: Space and Power
Panel One opened with an engaging set of presentations provoking us to think through how space and power bear on collective abilities to practice and express individually- and communally-rooted identities. Given the intimate entanglement of space and power, the three presentations conceptualized how the physical space of a mosque, the conceptual space of anti-Islamophobia and anti-racist academic community, and the literary space of Turkish female writers are all shot through with and shaped by manifestations of power.
Alexandra Bayer, a second-year PhD student in Islamic Studies at Boston University, spoke on gendered negotiations of space within An-Noor mosque (pseudonym was used to anonymize the location) located in a midwestern city. In her presentation, Bayer focused on how An-Noor mosque, which considers itself to have a progressive political agenda as well as a diverse constituency, negotiates between the various internalities and externalities that bear on its communal vision as well as the behavior, outlooks, and perspectives of the mosque's members. Bayer argued that focusing on the presence-absence binary of a partition in mosques reinforces a static understanding of space. Instead, this space in the mosque is in constant flux and the women of the An-Noor mosque negotiate the use of their mosque within conceptions of appropriate spatial relations while allowing for comfort, integration, and privacy.
Next, Shreya Parikh, a third-year PhD student in Sociology at UNC, asked us to urgently consider what our responsibilities and our horizons of possibility are in responding to bad faith or racist inquires regarding the veil. She posed a scenario: if confronted by a question that prompts us to debate the pros and cons of the anti-Muslim laws, can we simply refuse to engage, or will this merely reinforce the stereotypes held by the asker? By looking at academic responses to the "veil debates" in France, Parikh argued that certain assumptions about Islam or Muslims were (unintentionally) reinforced while seeking to respond to anti-Muslim rhetoric – for example, French-raised Muslims were described as developing a religious practice that was "individualizing" and becoming commensurable with French values. This added further to the idea of first-generation immigrants practicing an Islam that was neither French not authentic.
Finally, Firdevs Canbaz Yumusak, an independent scholar, critically analyzed the works of prominent Turkish female writers: Fatma Aliye Hanim (1862-1936), Şule Yüksel Şenler (1938- 2019), Halime Toros (1960-present), and Sibel Eraslan (1967-present). These women have debated and written on topics they consider pertinent to women's development, including women's position in society, their right to education and work, marriage, male-female relations, and ideas about love. The positions taken by these women writers fluctuated over time and responded to the unique societal conditions that bore on their own political and social positions. Yet, regardless of their conclusions, each of the writers interrogated how Turkish women should negotiate between their Islamic identities and intersubjectivities, while simultaneously progressing in a modern world as women.
Each of the presentations of this panel were united by two common inquiries regarding the community's interlocutors. Oriented toward the internal interlocutors, they asked: how do we, members of these communities, speak to one another about our positions, trajectories, and desires for progress, as well as contend with the restrictions and possibilities of modernity? In simultaneously responding to the external interlocutors, these panels consider how these communities speak to the urgent needs of the external environment and the unequal power of those who criticize Muslims from outside the Islamic community.
Panel Two: Counter-Imaginations
The second panel, Counter-Imaginations, was threaded together by a critical engagement with counter-imaginations that have developed within the Muslim communities as a critique of the hegemonic representations of Muslims. These include the meaning making of hijab by queer hijabis, the birth of collaboratives like Mipsterz, and the proliferation of children's books catering specifically to Muslims. How do these imaginations challenge hegemonic ideas about Islam and Muslims? How well do they fare in providing narratives of empowerment for Muslims? These were some of the questions at the heart of this panel.
Magda Mohamed, a PhD Student in Islamic Studies at Boston University, presented her work about piety practices and its interpretations for hijab-wearing queer individuals, especially in non-heteronormative environments. The work was based on interviews with three queer Muslims in Boston that pertained to how, when, where, and why they wore hijab. Through a queer interpretation of hijab, argued Mohamed, the wearing of hijab becomes an act where modesty becomes uncoupled from heteronormative sexual desire. More specifically, by responding to the need to morph religious modesty with personal queerness, queer hijabis negotiate the meaning of hijab as a mark of intimacy as well as a subject to the hetero male gaze and sexual desires. In doing so, argued Mohamed, queer Muslims challenged traditional Muslim authorities as well as the authoritative constructions of gendered piety.
Abbas Rattani, a physician, presented on Mipsterz—an arts and culture collaborative that works to curate and amplify Muslim creative voices, derived from a combination of the terms "Muslim" and "hipster"—of which he is a co-founder. Rattani described his presentation as a self-reflection while positioning himself within this community of Mipsterz and distancing himself from the academic rhetoric produced through the study of this collaborative. As a collaborative, it seeks to engage with media in order to challenge the expectations of media in a post-9/11 landscape. Rattani contrasted the nature of Mipsterz collaborative with that of Muppies (Muslim Urban Professionals) by stressing that, for him, the latter was based on assumptions of class privileges of certain Muslims, reflected through expensive entry tickets for organized Iftars during Ramadan.
Kemal Budak, a PhD student in Sociology at Emory University, presented a sociological study of Muslim children's books. More specifically, he looked at the gender representation within these books and how they engage with or challenge normative ideas about gender roles among Muslims. The main question motivating the study was: how do the gendered personalities of characters reinforce or deconstruct stereotypes about Muslims (both within the community as well as outside)? Budak examined around 240 children's books which formed the basis of both quantitative and qualitative data on the gendered nature of these books. He argued that women are not represented as much as men in the title, on the cover, and as central characters. Overall, this disparity might be contributing to a reinforcement of unequal gender roles.
Panel Three: Interrogating Institutions
The third and final panel, Interrogating Institutions, saw presentations from Lela Ali, Laila Noureldin and Lien Iffah Naf'atu Fina exploring organizational imaginations of Muslim faith networks and experiences in the larger community.
Laila Noureldin, a PhD candidate in Sociology at the University of Chicago, presented her research on race and perceived discrimination among Muslim Americans across three generations. Noureldin found significantly higher perception of discrimination among 1.5- and second-generation Muslim Americans as compared to first generation Muslim Americans. This finding directly inverts conventional notions of perceived discrimination across immigrant generations. While Noureldin did not find race to be a predictor of perceived discrimination, she did find significantly higher levels of perceived discrimination among American-born Muslims with Iranian heritage. These findings overall suggest that the racialization of religion is contributing to the rise in perceived discrimination especially among American-raised Muslims.
Lela Ali, a local community activist, presented a social network analysis of Muslim centers, and particularly black Muslim centers, in the Research Triangle (Raleigh-Durham-Chapel Hill) area. Ali's research looked at inter-institutional connections to determine to what extent a network existed among these organizations, and how these groups were shaped in relation to one another. She collected interviews with 66 Muslim leaders which later helped her map a network of 51 Muslim-led groups; later, she analyzed existing relationships, the strength of these relationships, and the nodes of network influence. Ali's presentation explored how the characteristics and attributes of these groups (religious sect, dominant ethnicity, location in the area, etc.) influenced the formation of relational ties among the network and how the ties shaped the way in which the groups navigate policy preferences, information, and resources.
Lien Iffah Naf'atu Fina, lecturer at Sunan Kalijaga State Islamic University (Yogyakarta, Indonesia) and first-year PhD student in Islamic Studies at the University of Chicago Divinity School, focused on Sufi groups within the largely Muslim population of Indonesia. Fina traced the development of Maiyah, a popular Sufi gathering particular to Indonesia, and the democratization of the use of the Qur'an within these gatherings. This democratization includes the focus on learning from the Qur'an rather than learning the Qur'an. Fina's work is centered on the "Qu'ran is for everyone" movement espoused by Sufi leader Emha Ainun Nadjib, focusing on the paradox of an enigmatic leader renouncing authority and encouraging mass followers to cultivate a direct relationship with God rather than rely on elite interpretation.
Keynote Address: Gender and the Politics of Islamic Studies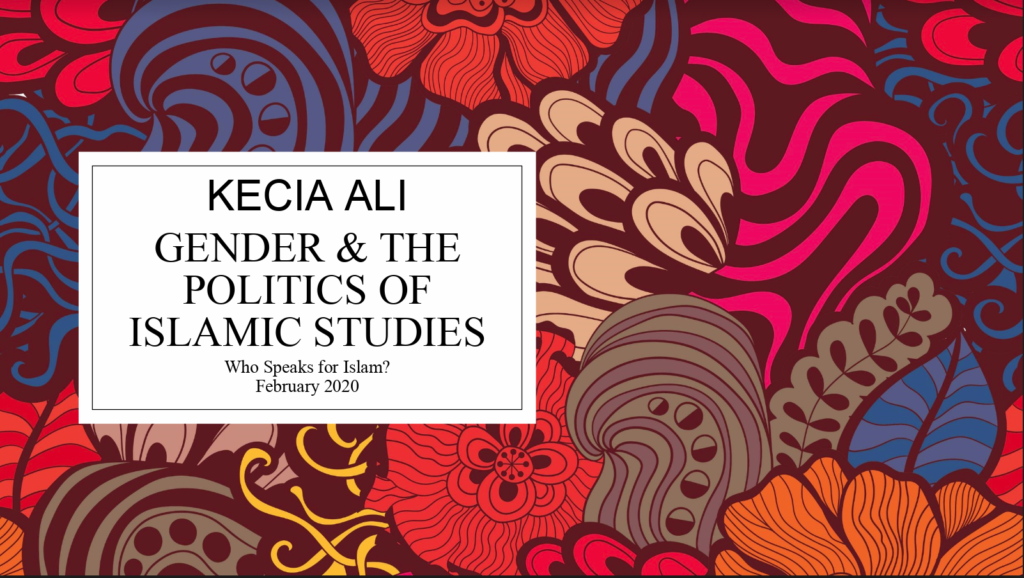 Prof. Kecia Ali, Professor of Religion at Boston University, presented a keynote speech that put to question the gendered nature of the epistemological production and authority within the academy. Her talk started with a focus on the syllabus of graduate courses; she reflected on the texts that come to be described as canon in these syllabi and that, over time, become foundational to the work of trained scholars. These syllabi are not unbiased, rather they are based on excluding (deliberately or not) certain works. Prof. Ali pointed out the multiple observations she had made in syllabi and recommended-readings lists and found them to be consistently male-dominated. Certain fields (like Near Eastern languages and civilizations studies) within Islamic studies had a male history and continued to be male-dominated. She noted how her own work as well as works by prominent feminist scholars like Ziba Mir-Hosseini are never read as a contribution to Islamic legal studies.
"Prof. Ali pointed out the multiple observations she had made in syllabi and recommended-readings lists and found them to be consistently male-dominated…he noted how her own work as well as works by prominent feminist scholars like Ziba Mir-Hosseini are never read as a contribution to Islamic legal studies."
Instead, their works are read as being solely about gender and sexuality. How does one break these academic structures that discriminate against women and folks of color? Prof. Ali offered a few suggestions directed towards faculty members, especially those with tenure:
Organizing and ensuring inclusive and gender balanced results in projects as different as writing a book, composing a syllabus, and organizing a conference.
When invited to present work or contribute chapters, ensuring that there is a gender balance. This might involve emailing the organizers to ask if the panel will be inclusive of those normally excluded (like scholars of color, junior scholars etc.). If planned panels are already fully composed of male scholars, then if one is invited as another male scholar, the invitation may be declined to make room for a different voice.
If the general complaint is that there are not enough scholars of color who fulfill said criteria for panel presentation or chapter production, then it might mean that the criteria itself needs to be re-examined to be more inclusive.
Concluding Notes
Who speaks for Islam? This is a complicated question to respond to. Yet, at the same time, we can improve the ways in which we, especially as scholars, can conceptualize it. First, our role as scholars is never neutral. We do end up 'speaking for Islam' and Muslims while never fully acknowledging it. In most cases, our own position (as scholars or Muslims or activists) is at stake in the debate on who gets to speak for Islam. Second, we can never have a fully 'Muslim' space within which the utopian debate about Islam will take place without the interference of other social hierarchies. This point was made by Prof. Juliane Hammer in her critique of the presentations in the first panel. For example, one can never have an 'internal critique' within the Muslim community independent of external factors (be it anti-Muslim hate, or racism, or gender inequalities). Critique of anti-Muslim hatred has become a "litmus test" in defining good scholarship, as scholar Rochelle Terman reminds us. This leads to a desire for an internal critique for and within the Muslim community, be it anti-Black racism or gender inequalities. Yet, instead of accepting the internal-external as the binary, we should leave open the possibilities for a multiple critique. This critique requires us to acknowledge the importance of both – possible issues internal to communities we speak about/for as well as the challenges of anti-Muslim hatred.
"Keeping with the tradition, the 18th Annual Duke-UNC Middle East and Islamic Studies Graduate Student Conference will be held in Spring 2021."
Keeping with the tradition, the 18th Annual Duke-UNC Middle East and Islamic Studies Graduate Student Conference will be held in Spring 2021. Call for papers will be put out by the Islamicate Graduate Student Association in Fall 2020 (October-November) and published on Maydan. For updates about the conference, please follow us on our Facebook page.
---
Arianne Ekinci

 is a History PhD student at the University of North Carolina, Chapel Hill focusing on Uyghurs in the PRC and diaspora at UNC-Chapel Hill. 
Kylie Broderick is a History PhD student at the University of North Carolina, Chapel Hill studying Middle Eastern social and solidarity movements, the Arab Left and Islamic Leftism, as well as intersections of class and state institutions particularly in 20th-century Lebanon.
Shreya Parikh is a PhD student in sociology at the University of North Carolina at Chapel Hill. She studies contemporary racialization of "Blacks" in France and Tunisia, with a focus on the study of boundaries between "Black" and "Arab" identities and its link to Islam. Her words have been published in ThePrint and The Wire. You can follow her @shreya_parikh.
---
[1] Find the bios for the participants and their expanded abstracts here: https://islamicstudiesconf2020.web.unc.edu/program/