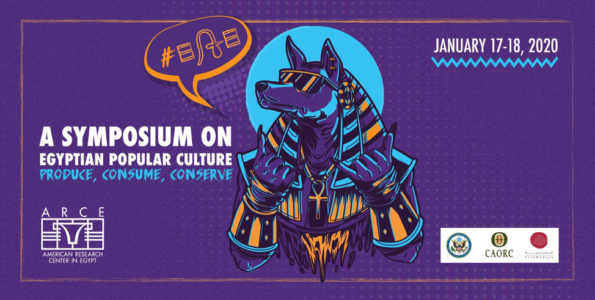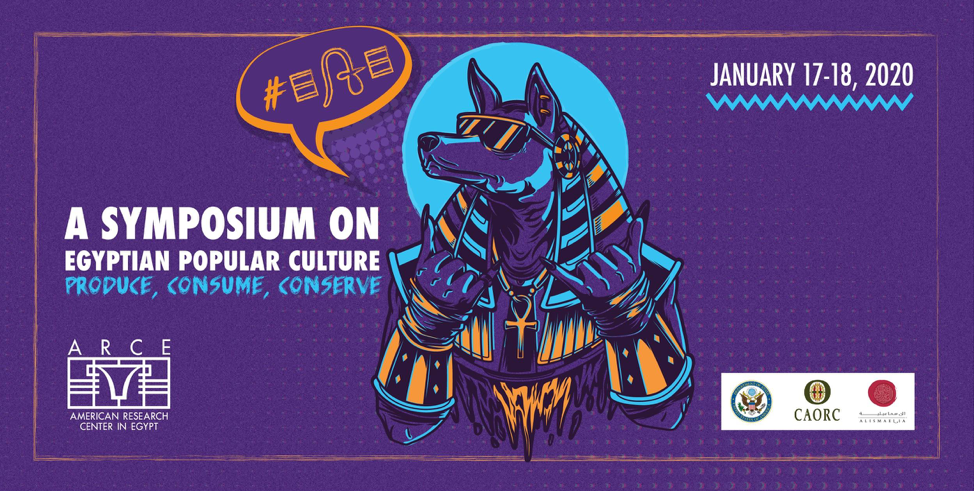 Egypt's Podcasts and Booktubes: A Literary Criticism of the Future? | by M Lynx Qualey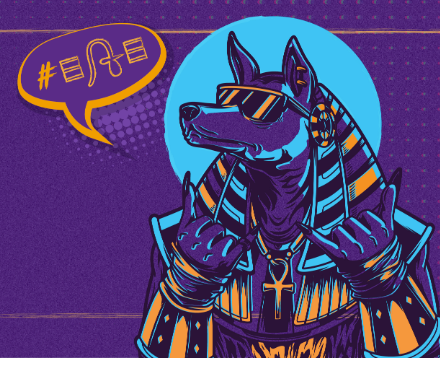 Produce, Consume, Conserve: A Symposium on Egyptian Popular Culture  began as a conversation in downtown Cairo at the American Research Center in Egypt (ARCE) between cultural heritage professionals and a historian about how we consume what we see when we walk around Cairo. The conversation carried on and we moved on to the problematics of presenting a city: is there something wrong with instagramming what we find charming about Cairo while cropping out the undesirable? What about enjoying the city and not being conscious of how and why we should conserve it? Then the wheels began turning: we posed the question of how that applies to books and film. We wondered why conversations like these don't happen in more formalized settings and if in some disciplines, they don't happen at all. So we wrote our fantasy list of who we would put in a room together if we could. We talked about how feasible such an event could be at ARCE's Cairo location. Then we got to work: speaking to potential participants, thinking of different speaking formats, and all the other details that go into something like this. Like the event title. Produce, Consume, Conserve embodied what we wanted out of the event: to highlight how things are produced and consumed and think about how we conserve them, in whatever form that may be. We want to inspire people to conserve, but to do so responsibly.
Later came the visuals, such as the event poster. An updated Anubis drawn out in purple, gold and safflower blue, the ancient Egyptian god that looks like a jackal, it is intended to be tongue-in-cheek. There is a little bit of ARCE's rich history in archaeological research referenced in the usage of the Anubis figure, but then there's also the fact that pharaonic references have worked themselves into Egyptian architecture, letters, and television (see this for an interesting marriage between Egypt's past and Oum Kulthoum). But then there's the flipside: in some ways, the pharaonic past is not part of everyday Egyptian popular culture. Interpret the Anubis mascot for Produce Consume, Conserve as you will. I think he simply looks  cool.
When we were dreaming up Produce, Consume, Conserve, we also wanted to draw in an audience that extended beyond those warm bodies we managed to draw together for the actual symposium; we wanted to cross boundaries and inspire conversations both on Egyptian popular culture itself and popular culture at large. Conversations are pleasant, but they need to have some form of export. For that reason, I present to you a digital leg of the symposium: Produce, Consume, Conserve: An Essay Roundtable on Egyptian Popular Culture, produced in collaboration with the Maydan. We're trying to do the same thing we are doing with the symposium: striking a balance between studies of the production of popular culture, notes on how we consume popular culture, and suggestions on how we should conserve popular culture.
The roundtable begins with M Lynx Qualey. She questions what is literary criticism in Arabic in this day and age and opens our eyes to how podcasts and Booktube shape the interests of readers of Arabic literature. Shaimaa Ashour then highlights an important new publication, Cairo since 1900: An Architectural Guide, by Mohamed ElShahed; she weaves in an interview with the author himself, casting light onto the process by which such a comprehensive book was assembled. For our purposes, Ashour's discussion of the text reminds us that architecture is consumed daily and questions how that should figure into our day-to-day lives. Marwa Gadallah then writes an accompaniment to the work of Bahia Shehab, an artist-activist-academic whose work on wall murals spans the world over. Gadallah gives us a peep into Shehab's process and what conversations it can inspire. Then we have Ida Nitter's contribution on Mawlid al-Nabi, the celebration of the Prophet's birthday, one of Egypt's most popular celebrations: she looks at the customs surrounding food and religious ceremony, as well as the history infecting it all. I have a less academic contribution: surveying a decade in pop art detailing Oum Kulthoum, Egypt's most iconic voice. But part of the reason why we're trying to bring people together at Produce, Consume, Conserve is to celebrate pop culture, not to demean it because it is popular but to take popular opinion as an arbiter of taste: Richard McGregor does that for us in this digital convening of PCC, with an essay on athar, prophetic relics, folded in to a heavy consideration of the lines between elite and popular culture.
We hope you enjoy this series of essays, which, we again, thank the Maydan for hosting and collaborating with us: we will be releasing them twice weekly for the next few weeks. If you're in Cairo the weekend of January 17th and 18th, please join us at Produce, Consume, Conserve.
N.A. Mansour is a PhD candidate at Princeton University's Department of Near Eastern Studies, where she is  writing a dissertation on the transition between manuscript and print in Arabic-contexts. Her interests include Islamic studies, Arabic-language pop culture, and food.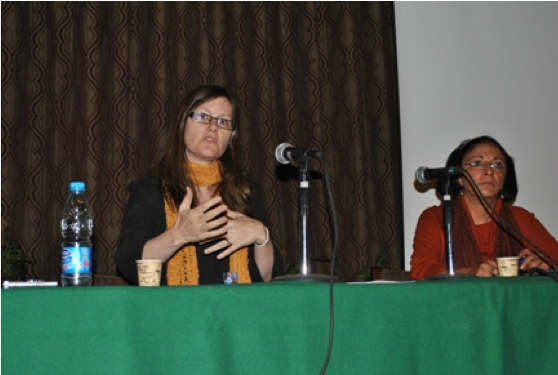 In Arabic as in English, the power of the Big Critic has waned. The mid-twentieth-century Golden Age of literary criticism, with its masterful literary tastemakers based in cities central to a publishing industry, has shifted into an age of numerous critics in numerous cities around the world. Many an essay regrets the decline and fall of literary criticism and the rise of blogger-rubes such as myself. But the death of any essential human pursuit is probably greatly exaggerated: literature takes on different forms, but the drives remain the same. And while any great art may be an elite pursuit, both art and art criticism are core human instincts. What are music, stories, books, and visual art doing? Which are good? What do we mean by good? Which can be re-read, imitated, talked back to, studied?
Literary criticism has, historically, had a relatively high barrier to entry—higher than literature itself, as criticism requires the construction of authority. For most of history, gaining the support of a wealthy patron helped. More recently, access to an important literary magazine or newspaper, often with funding from a nation-state or soft-power initiative. Women were mostly outsiders, although many of the women who were effectively literary "critics" created authority by hosting a literary salon, such as the one founded by May Ziade and frequented by Taha Hussein, Abbas al-Akkad, and others, although this did not prevent family from institutionalizing Ziade.
Indeed, this was the model for ArabLit, the blog I launched in Cairo in 2009. When I gave a talk at the American University of Cairo (AUC)'s Oriental Hall in 2012, as part of the Center for Translation Studies' lecture series, I likened ArabLit to a digital literary salon; I have credibility not by my studies or talent, but by being amid talented people. Youssef Rakha's "Arabophile," which morphed into the Sultan's Seal and Cairo Cosmopolitan Hotel, is even more of a digital salon with central literary personalities who have developed along with the website.
What we lose: marginalization of criticism
Gatekeeping has its upsides, and there are reasons to weep over the ashes of the Big Critic. Writers have railed against the closed-mindedness of twentieth-century literary criticism, and for good reason; yet the best of the Big Critics also helped build a vision of literary possibility. May Telmissany, for instance, writes in a recent essay "Edwar al-Kharrat: On Books and Writing" of how the great novelist and literary critic al-Kharrat saw the scope of her career when he wrote about her first collection of short stories, before she saw it herself. Al-Kharrat also had a keen eye for seeing emergent literary trends and forms, and for drawing attention to their possibilities, and younger writers often built on his ideas.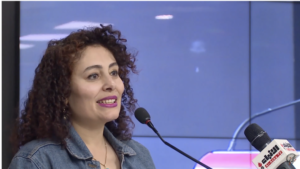 Egyptian critic and author Mansoura Ezz Eldin, in an email interview in 2019, talked about how the influence of long-form literary criticism has waned. "Criticism has been marginalized even more with the increasing strength of social media, such that it is almost absent from the literary scene; it's true that there are still a number of writers who are keen to continue critical writing, but it's no longer as influential as it once was, and broader segments of the reading public are choosing what they read on the basis of literary awards and comments on social media sites, or ratings on GoodReads and other sites, and to a lesser degree by quickie reviews in literary newspapers and magazines."
This doesn't mean we have obviated the need for in-depth, serious literary criticism, nor that literary criticism is on the verge of extinction. It probably does mean that criticism, in Egypt as elsewhere, is going through a shaggy period of between-ness. Old forms and forums are being abandoned for any number of reasons: an association with an autocratic state; an insular, limited view of literature; or because people have lost interest in reading a particular sort of review.
The current shaggy state of criticism, as Ezz Eldin notes, opens up room for exploitation. The weakening of centralized criticism comes at a time when Gulf-led big-money prizes, fairs, workshops, and festivals are creating new pathways for literary conversation. Social media sites also build a new credibility through popularity.
There are two sorts of literary criticism. The sort that is targeted at readers, and the sort that is targeted at writers. Social media and quickie rating-based reviews absolutely have a utility in making a reader feel connected to a larger community and in control of their reading life. Yet these do not fill the same need as long-form literary criticism, which is largely targeted at the community of writers. Thus far, BookTube, or the book-focused subculture among those who post video content to YouTube, has largely fallen into the first category, while literary podcasting has largely fallen into the second.
It's important to note that, for Arabic literature, being at the margins of "world" literature also means that other-language criticisms can have an exaggerated effect, amplifying some voices and eliding others.
What we gain: Eluding borders, reinventing form
The Arabic literary podcast is only just finding its footing as a long-form literary conversation; a literary salon that takes place in all countries at once, and to which anyone can listen in. The physical literary salon has many charms, but was sharply limited by social class, geography, and personal affinity. Printed literary conversations could be made more widely available, yet they have, in practice, faced Arabic literature's massive distribution issues, which affect not only movement between countries, but movement within them.
Literary podcasts in all languages can get around borders, building new conversations around literature. Most podcasts are open access. There are currently only a few literature-focused podcasts in Arabic, although there are culture-focused podcasts that sometimes touch on literature. The Jordan-based Sowt network is currently looking to develop a literary podcast in Arabic, but has not yet launched one. Kerning Cultures, the work of producers across the region, sometimes focuses on literature; Egyptian BookTuber Nada Alshabrawy also recently launched a podcast focusing on international women's writing, although it requires a subscription on the Maktabi app. Ursula Lindsey and I launched an English-language podcast about Arabic literature in the fall of 2017, called "Bulaq." Perhaps the most important Arabic-literature podcast is the Cairo-based "Sultan's Seal" podcast with Mina Nagy and Islam Hanish, part of Youssef Rakha's digital salon.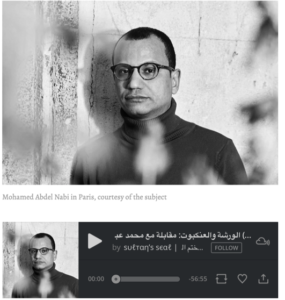 The "Sultan's Seal" podcast launched in January 2019 with a short discussion of Mohab Nasr's poetry. The form had sufficient appeal, both for its practitioners and its audience, that it began to appear every month, mid-month, and expanded into dialogues with some of Egypt's most prominent authors: poet-novelist Yasser Abdellatif; translator Hesham Fahmy, who brought Game of Thrones into Arabic; novelist and translator Mohamed Abdelnabi, whose In the Spider's Room was shortlisted for the International Prize for Arabic Fiction; novelist and critic Mansoura Ezz Eldin; nonfiction author Charles Aql, the author of Coptic Cuisine; surreal short-story writer Eman Abdelrahim; novelist and short-story writer Ahmed al-Fakharani; acclaimed novelist Nael Eltoukhy; poet Emad Fouad; and, in November 2019, the first non-Egyptian guest: Algerian poet-translator Salah Badis.
New online forms have birthed new possibilities. Rakha's digital literary salon has spawned new video and audio forms that move between conversation and criticism, the intimately personal and the broadly philosophical. Mada Masr has been another force in re-seeing the possibilities of online literary criticism, moving the focus away from the contemporary to a wider scope for Egyptian classics. Mada has also pioneered the "Detox," a multi-genre work they run on Fridays, which includes a literary "chitchat." Although influence has often worked into Arabic, we can expect these forms to influence literary thought in English and beyond.
The role of Booktube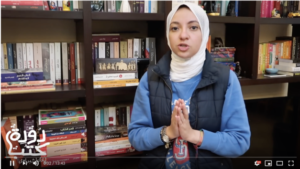 Many traditional TV chat programs still invite authors. After all, since Arabic satellite TV's explosion in the early 2000s, there has been a great deal of airtime to fill. But most TV chats with authors center the author; YouTube channels center the reader/reviewer/interviewer, which is also how they create authority.
Egypt is 23rd in countries ranked by YouTube subscribers, between the Netherlands and Chile, and far behind Saudi Arabia, which is 14th, according to Channel Meter. Some Egyptian BookTubers, such as Nada Elshabrawy, started out making Facebook videos. Egyptian BookTube, more than blogging or podcasting, brings young people, outsiders, and newcomers to discussing books.
Anecdotally, Egyptian BookTube seems younger than any other form of literary criticism or conversation. Like other areas on YouTube, it is open to school- and university-aged creators. Most Egyptian Arabic-language BookTube channels, like US and UK English-language BookTube, feature a reader sitting or standing in front of a bookcase. Most talk for between five to ten minutes, sometimes loudly, and almost always in with a rapid-fire delivery. There are a number of smaller and intermittent Egyptian BookTube channels; most have fewer than five thousand viewers.
Four of the more popular and productive Egyptian BookTube channels launched in 2017: Saif Habashy's "Salefny Ketab" (Lend Me a Book) launched in May 2017 and by November 2019 had more than 34,000 subscribers; Nada Elshabrawy's "Dudit Kutub" (Bookworm) launched June 2017 and in November 2019 had more than 73,000 subscribers; "The Novelist" with Amr Maadawy, which also launched in June 2017, had more than 24,000 subscribers as of the end of November 2019. Mohamed Shady's "Bita3 Kutub" launched in September 2017 and by November 2019 had more than 42,000 subscribers.
BookTube, as a whole, is seemingly influenced less by print literary criticism than by other YouTube channels, as well as film reviews, with focus on lists and stars, and a "no spoilers" policy. All of the above channels feature short videos; all are fast-paced; all have an educational or self-help bent, using humor and sometimes the personal life of the host.
Much of BookTube focuses on the book as commodity rather than as art or social disruptor. "The Novelist" is dedicated to discussing "the most important" Arabic and foreign novels, using the slogan, "Know Your Next Read." Maadawy reviews novels with the stated goal of helping people find books that fit their tastes. "Lend Me a Book," run by student Saif Habashy, is filmed in Habashy's Alexandria home. Habashy, who told the Egypt Independent, "I'm not a critic," added that he tells people "the content and price of a book."[iv]
Nada Elshabrawy is the only one of the four who is an avowed writer—she's a poet—although she doesn't talk about poetry on the channel. She said, in a May 2019 interview: "I can't talk about poets or poems without involving myself directly, and I don't want to be advertising myself as a poet on my own show."[v] Instead, the show addresses topics like, "How Can We Read More?" in a no-nonsense, personal, Marie Kondo-ish way. Each episode is scripted, although they feel natural.
ElShabrawy, who has traveled as a BookTuber, giving talks and participating in workshops, takes this seriously as a part of her profession, has said that her goal is to reach young readers and to help them read "as much as they can" so that they can "fall in love" with books. Although she's said that she doesn't consider what she does criticism, "I think the importance of booktubers in the overall book ecosystem is just like the importance of the critics and scholars in the past."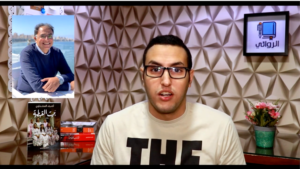 Generally, BookTube has a focus on more prize-winning and popular authors: Mohamed Shady recently focused on best-selling horror novelist Stephen King. Maadawy has visited popular novelist Ibrahim Eissa in his office and has devoted a lot of time to the International Prize for Arabic Fiction. Egyptian BookTube has been noticed by the IPAF and the Abu Dhabi Book Fair, which has put considerable emphasis on social-media celebrities; Elshabrawy and Maadawy were at the 2019 fair.
This new YouTube criticism currently lends a fair piece of its enthusiasm to big books and Gulf soft-power initiatives, particularly the Gulf's big literary prizes. It is, at present, more commodity-oriented than either podcast or print. This in itself is not a positive development for the literary arts. But in building a new space to talk about books, these channels are also building a future where more — new language, new audiences, new genres — is possible. Perhaps, in the near future, criticism/intiqad will no longer be how we want to describe modes of evaluating and illuminating literature's pathways. In a 2018 essay-post, "In Search of Sanity," Mada Masr culture editor Yasmine Zohdi expressed her discomfort with the moniker of "critic," and underlined our need for a fresh critical (or illuminative) language. Perhaps the word critic/naqd will become antiquated as we work toward new ways of evaluating literature; why not? But the essential relationship endures.
M Lynx Qualey is the founding editor of the 'ArabLit' website (www.arablit.org), which won a 2017 London Book Fair "Literary Translation Initiative" prize. She also publishes the experimental ArabLit Quarterly magazine and is co-host of the Bulaq podcast. Her co-translation of the middle-grade novel Ghady and Rawan was published in August 2019 by University of Texas Press, and her translation Sonia Nimr's Wondrous Journeys in Amazing Lands is forthcoming (fall 2020) from Interlink. She writes for a variety of popular publications and currently lives in Rabat, Morocco.
Image captions: 1) M Lynx Qualey and Samia Mehrez at a Center for Translation Studies lecture; 2) Egyptian novelist Mansoura Ez Eldin; 3) Egyptian novelist Muhammad Abdelnabi; 4) "Bookworm" Nada Elshabrawy; 5) Booktuber Saif Habashy; 6) Booktuber Amr Maadawy.