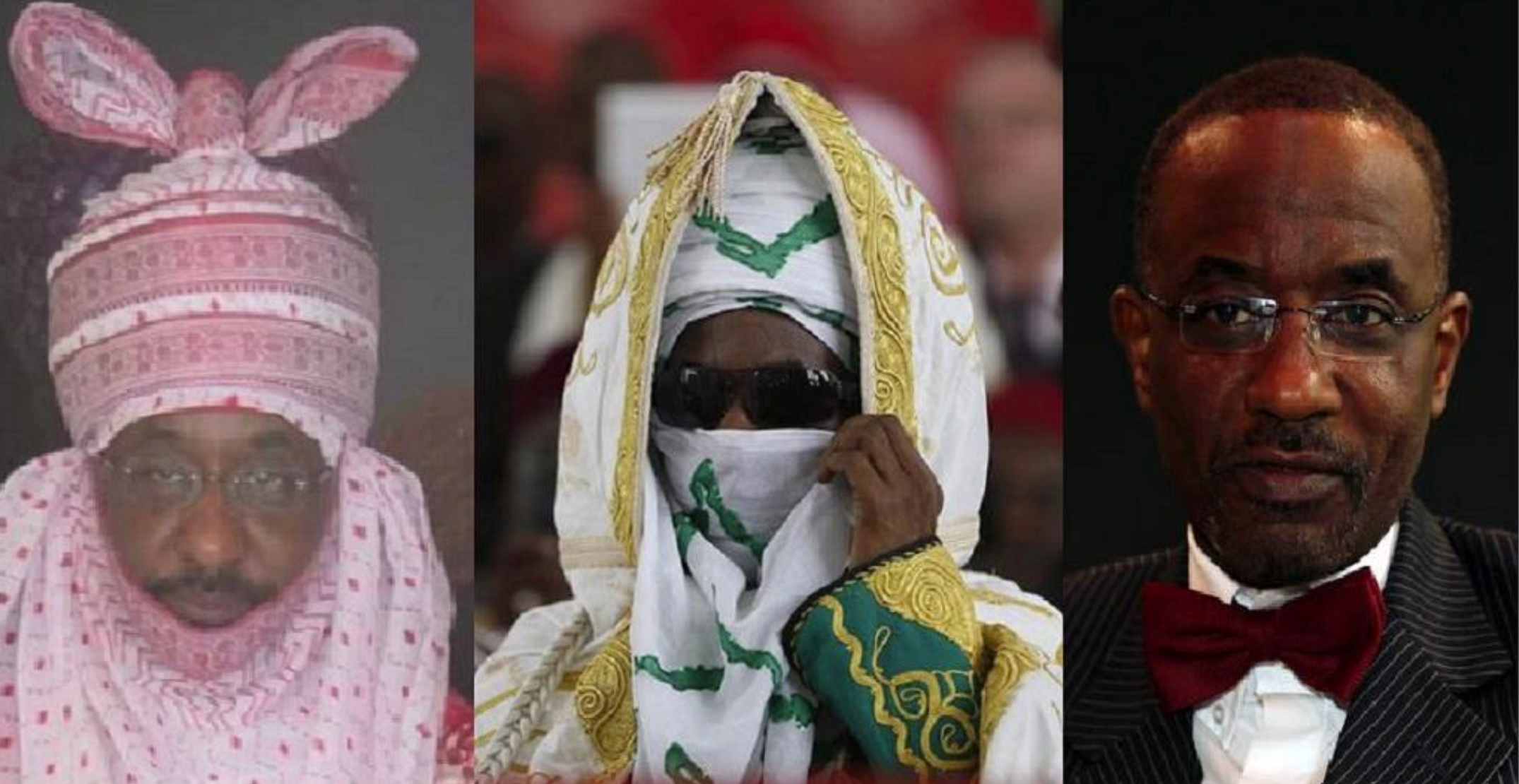 Muhammadu Sanusi II, also known as Sanusi Lamido Sanusi, is one of the most famous hereditary Muslim rulers in the world today. He is also one of the most embattled. As politicians seek to decimate his authority, his predicament exemplifies broader pressures facing his peers around the world. Expected to simultaneously mediate social change and uphold "tradition," these hereditary Muslim rulers are supposed to be above the fray of day-to-day politics – but they cannot avoid getting drawn into it.
"Since 2014, Sanusi has been the emir of Kano. The most populous state in northern Nigeria, Kano is a religious hub in the region, just as it was in the pre-colonial period."
Since 2014, Sanusi has been the emir of Kano. The most populous state in northern Nigeria, Kano is a religious hub in the region, just as it was in the pre-colonial period. Within the hierarchy of northern Nigeria's hereditary Muslim ruling class, the emir of Kano formally ranks third, after the Sultan of Sokoto and the Shehu of Borno. In terms of political sway and media coverage, however, the emir of Kano is sometimes more visible than those other figures – and this has been especially true with the outspoken Sanusi in the role.
Sanusi was a controversial public figure long before becoming emir. Part of Kano's Muslim aristocracy, he was nevertheless a student radical at Ahmadu Bello University in the 1970s. With dual training as a banker and an Islamic intellectual, he put himself into the media spotlight more than any other royal scion in northern Nigeria. Moreover, his religious worldview is markedly eclectic in the Nigerian context or indeed any context: in his writings on Islam and politics from the 2000s, one can find him citing figures ranging from the medieval Maliki jurist Khalil bin Ishaq to the Iranian philosopher-revolutionary 'Ali Shari'ati. During the phase of intensive "shari'a implementation" in northern Nigeria between 2000 and 2003, Sanusi expressed a progressive vision of Islamic law's orientation and purposes, a vision that was self-consciously out of step with the much more conservative opinions of many scholars and even many ordinary Muslims.
Sanusi was also controversial in his role as Governor of the Central Bank of Nigeria (CBN) from 2009-2014. Praised abroad and at home for his post-crash reforms of the banking sector, he also drew criticism from multiple sectors. Nigerian Christian pastors objected to his decision to advance Islamic banking in Nigeria. The "Occupy Nigeria" movement deplored his involvement in an abortive effort to remove fuel subsidies in 2012. And the administration of President Goodluck Jonathan (in office 2010-2015) fired Sanusi in 2014 after the leak of correspondence where Sanusi questioned Jonathan about an alleged $49 billion in missing oil revenues.
As emir, Sanusi has continued to court controversy. At a 2018 conference I attended in Kano, where protocol required Sanusi to represent both himself and the Sultan of Sokoto, Sanusi half-joked that "anything I say that is not controversial comes from the Sultan, but anything I say that is controversial comes from me." Departing from most of his peers' practice of confining their public remarks to platitudes, Sanusi weighs in on sensitive questions of economic management while also calling for wide-ranging social change on issues such as girls' education. Sanusi speaks to multiple audiences simultaneously, seemingly well aware that what offends some of his fellow Nigerians may please others while also continuing to attract Western media attention.
Sanusi is reinventing the role of emir, and part of that reinvention involves being a relentless political and cultural commentator. Trumpeters in traditional garb still herald his arrival to public events, and attendants still lift their flowing robes to screen him from public view when he sits down and stands up – but when he speaks it is as a blend of development economist, modernist Islamic intellectual, and hereditary aristocrat. This combination has won him both friends and enemies among Nigeria's politicians.
The Kano Emirate as Political Football
The very kind of politics that today threatens Sanusi's power is also the kind of politics that brought him to the throne. Since colonial times, succession to the emirates has been regulated by political authorities, who also limit the scope of emirs' power. From the British authorities' removal of the Emir of Zaria in 1902 to military dictator Sani Abacha's sacking of the Sultan of Sokoto in 1996, Nigeria's rulers have brazenly intervened to depose or elevate hereditary rulers when they felt political necessity demanded it. And just as the emirs were pillars of British "Indirect Rule," so too in postcolonial times have they been vital supports for Nigerian politicians.
Power does not just run in one direction. Kano's Governor Abubakar Rimi learned this in 1981 when he sought to restrict the power of then-Emir Ado Bayero (in office 1963-2014) by creating new emirates. Rimi's project was greeted with protests, and in 1983, Rimi's successor reversed the order.
But often, it is the politicians who have the upper hand over the emirs. This relationship means that succession questions sometimes turn on the politics of the moment. Sanusi reportedly desired the emirate his entire life, in part because his grandfather, Emir Muhammadu Sanusi I, had been deposed by the northern politician Ahmadu Bello in 1963 in favor of Ado Bayero, the elder Sanusi's younger brother. But it took special circumstances for Sanusi II to succeed his great uncle.
When Ado Bayero died in 2014, Kano's elected governor was Dr. RabiuMusa Kwankwaso, who had recently moved from the ruling People's Democratic Party (PDP) into the opposition coalition the All Progressives Congress (APC). Kwankwaso had a long-running conflict with the emir; some of Kwankwaso's supporters accused Bayero of favoring Kwankwaso's rival Mallam Ibrahim Shekarau. The Kwankwaso-Shekarau rivalry had shaped Kano State politics since Nigeria's return to democracy in 1999; Kwankwaso served one term as governor (1999-2003), only to be defeated by Shekarau (in office 2003-2011) and then mount a comeback to win a second term (2011-2015).
Bayero's June 2014 death, then, came at a moment almost perfectly suited to Sanusi's advantage: for Governor Kwankwaso, who had a major say in choosing the next emir, Sanusi offered a tool for sidelining Bayero's direct descendants and gaining long-sought influence over the emirate, as well as a means of undermining then-President Jonathan by elevating one of Jonathan's key adversaries. Within a period of just four months in 2014, Sanusi went from being fired and rebuked by the president over the missing oil revenues controversy to being enthroned as one of the most prominent symbols of Islamic authority in Nigeria. For Kwankwaso and the APC, with a crucial presidential election approaching in February 2015 (it was later postponed to March), the succession was a golden opportunity to solidify influence over Kano – and the more than one million votes the state represented. Bayero's sons and their supporters protested Sanusi's selection, but with Kwankwaso's backing he prevailed.
The politicization of succession issues has now come back to haunt Sanusi. The 2015 election brought triumph for the APC at the presidential level and in many governorships. At first, the outcome was also a personal triumph for Kwankwaso: term-limited as governor, he won election to the Senate and installed his hand-picked successor, Dr. AbdullahiUmarGanduje, as the new governor. As with so many such relationships, though, Kwankwaso and Ganduje fell out. This was partly because the pull of Kwankwaso's personal presidential ambitions led him to switch from the APC back to the PDP in the lead-up to the 2019 elections, while Ganduje remained in the APC camp. These political rivalries surrounding the governorship had ramifications for Sanusi, who found himself in conflict with Ganduje.
The conflict entered a new stage with the hard-fought 2019 gubernatorial contest in Kano. With Ganduje no longer allied with Kwankwaso, Ganduje's re-election bid faced substantial obstacles – including, in the eyes of Ganduje's camp, Sanusi. Ganduje's team came to feel that Sanusi had thrown his full weight behind the Kwankwaso-backed PDP candidate Engineer Abba Kabir Yusuf (who is also Kwankwaso's son-in-law). After the initial vote on March 9, Yusuf took a slight lead, but Ganduje narrowly won a re-run election held March 23. One of the re-elected governor's first targets was Sanusi.
Ganduje's Bid to Shrink Sanusi's Power
On May 8, Ganduje signed into law a bill creating four new emirates in Kano State. The new law shrinks Sanusi's territory from the entirety of the state – forty-four Local Government Areas (LGAs) – to just ten LGAs. The law places some of the new emirs on essentially the same level of prestige as Sanusi, giving ten LGAs to Rano Emirate, nine to Bichi, eight to Gaya, and seven to Karaye; all of these emirs, moreover, are designated as "first class," just like Sanusi.
The new emir of Bichi, Alhaji Aminu Ado Bayero, is a particular rival to Sanusi in that he is one of the sons of Sanusi's predecessor Ado Bayero. It was his older brother, Sanusi Lamido Ado Bayero, who was seen as the foremost alternative to Sanusi amid the succession struggle in 2014 – but having any member of the Bayero family take over a major chunk of Kano Emirate is clearly a challenge to Sanusi.
"Sanusi's supporters responded by taking the governor, along with the Speaker of the Kano State House of Assembly and the Kano State Attorney General, to court in an effort to block the division of Sanusi's territory. "
Sanusi's supporters responded by taking the governor, along with the Speaker of the Kano State House of Assembly and the Kano State Attorney General, to court in an effort to block the division of Sanusi's territory. In mid-June, a Kano High Court dismissed the suit, but another court judgment soon followed, ruling that the new emirs could not be enthroned. Ganduje appointed the new emirs anyway. The conflict is less heated now than it was in June, but the situation remains legally ambiguous. The Durbar, the emir's procession on horseback held to commemorate special events (in this case the Islamic holiday of Eid al-Adha), was an occasion that put each figure's authority to the test: Ganduje ordered Kano's District Heads not to attend Sanusi's Durbar, but several of them very publicly disobeyed.
Meanwhile, in early June, Ganduje's team mounted another type of assault on Sanusi's power: accusations of corruption. It should be noted in Nigeria as in various other countries, anti-corruption campaigns can be both a response to massive popular demand and a political weapon. That is, many Nigerians view endemic corruption as the über-problem of their country, a cancer at the center of Nigerian politics and society. Yet anti-corruption carries a politics of its own, and it can often be difficult to separate out what is genuine from what is tactical when Nigerian politicians mobilize anti-corruption drives. Sanusi's career, again, symbolizes this tension: when his queries to the Jonathan administration about unaccounted-for oil revenues become public in 2013, some Nigerians hailed him as a truth-teller while others labeled him an ambitious hack.
Now, Sanusi is the target of a corruption probe: the Kano State Public Complaints and Anti-corruption Commission alleges that under Sanusi, the Kano State Emirate Council misspent as much as 3.4 billion Naira, including nearly two billion on "seemingly personal expenditures." The Commission recommended that Sanusi be suspended as emir. Some dynamics of the investigation have spilled into public view, including leaked expenditure documents from the Emirate Council. Ganduje, it should be said, has been dogged by serious corruption scandals of his own; in October 2018, leaked videos appeared to show him personally receiving cash bribes from contractors.
Sanusi and Ganduje are in a multi-front war that involves state power, media narratives, and the hearts and minds of ordinary subjects. The conflict between Ganduje and Sanusi has repercussions that extend well beyond Kano. The battle has even drawn in President Muhammadu Buhari, who is reportedly unhappy at the feud. Other influential northern governors and businessmen, including Africa's richest man Aliko Dangote, have sought to make peace between Ganduje and Sanusi; Dangote brokered a reconciliation of sorts at the end of Ramadan in early June. But the issues are not so easily resolved: indeed, Ganduje has said that full reconciliation depends on Sanusi withdrawing his legal suits, accepting the new emirs, and publicly apologizing to the governor and the people of Kano. Implicit in Ganduje's message to Sanusi is the idea that the corruption charges could be withdrawn if Sanusi acquiesces to the subdivision of his territory.
"Ganduje's actions may have already earned him the displeasure of other key Muslim leaders in the state and beyond. In early May, four prominent Salafi scholars – including Mallam Aminu Daurawa, Commander-General of the Kano State Hisbah Board – resigned from Ganduje's government. "
Ganduje's actions may have already earned him the displeasure of other key Muslim leaders in the state and beyond. In early May, four prominent Salafi scholars – including Mallam Aminu Daurawa, Commander-General of the Kano State Hisbah Board – resigned from Ganduje's government. The scholars did not explicitly state whether they were resigning over the governor's treatment of Sanusi, but their departures do not seem coincidental. Sanusi is, as mentioned above, an eclectic Islamic thinker who has had his own clashes with the Salafis; at the same time, however, Salafi clerics and others have many reasons to be unenthusiastic about efforts by politicians to break the authority of someone like Sanusi. Ganduje may find himself losing allies in Kano and awakening nervousness among powerful hereditary rulers elsewhere, up to and including the Sultan of Sokoto. So far, the Sultan has not weighed in publicly on the Ganduje-Sanusi conflict, but as one Nigerian intellectual has argued, the Sultan and other major northern Nigerian emirs must be aware of the implications the Kano situation has for their own authority:
If this could succeed now, tomorrow the governor of Katsina may wake up and say "I have given Mani an emirate status or Funtua an emirate status". Or the Governor of Zamfara may wake up and say "I have given Gumi an emirate status, Anka an Emirate status" or the Governor of Sokoto may wake up and say "because I come from Tambuwal, I give Tambuwal an emirate status". This means everything is bastardized and the moment you abuse the tradition and culture of people, what you are doing is that you are disregarding the integrity of that institution. You are throwing dust into their face.
The question, then, is whether there is enough force of popular sentiment to compel Ganduje, over the long term, to reverse not just the corruption probe but also the breakup of the Kano Emirate. On the one hand, for many people the emirs are precious symbols of "the tradition and culture of people." On the other hand, recent decades have seen a marked decline in respect for emirs, precisely because some northerners have come to see them as the leashed pets of politicians rather than as the venerable inheritors of pre-colonial Islamic authority.
Many observers see in the Ganduje-Sanusi conflict a sequel to the above-mentioned conflict between Governor Rimi and Emir Ado Bayero in the 1980s; such observers expect that in the long run, Sanusi will triumph. But if Sanusi's fate does turn out to be different than Ado Bayero's, it really will be a sign that times have changed.
Conclusion
The challenge to Sanusi's power raises broader questions about the trajectory of Muslim authority around the world. For many Muslim leaders today as in the past, authority is partly inherited: not just northern Nigerian emirs, but also a broad spectrum of kings and princes, Sufi shaykhs, major imams, and even leading intellectuals descend from families with institutionalized religious charisma. Likewise, for many Muslim leaders today, authority partly rests on systems of symbols: from clothing to the trappings of office to the very identification of the individual with a broader tradition (in this case, the identification of northern Nigeria's emirs with the region's Islamic past and present), the symbols represent a source of power – but also a source of vulnerability. What happens when politicians assert explicit control over these Muslim leaders? Does it challenge, even cheapen, their authority to a point of no return? And what does it mean when the politicians themselves take on the mantle of Muslim authority? Ganduje, after all, is sometimes referred to by supporters and in official government statements as "Khadimul Islam" – the "servant of Islam."
"What happens when politicians assert explicit control over these Muslim leaders? Does it challenge, even cheapen, their authority to a point of no return? And what does it mean when the politicians themselves take on the mantle of Muslim authority? "
Sanusi's multi-faceted dilemma also shows that these conflicts are not so simple as "tradition" versus "modernity." Sanusi has attempted to reinvent the role of emir from the inside, blending his current office with his prior roles as economic policymaker and modernist Islamic intellectual. In doing so, however, he has undercut some of his own potential bases of support: some Sufis, long a pillar of support for Kano's emirs and for Nigerian Muslim rulers more broadly, suspect that Sanusi is not at all one of them; some other emirs balk at the way Sanusi refuses to "stay in his lane"; and his regular media appearances and public interventions make it hard for him to claim to be above the fray of partisan politics. Yet his more circumspect and self-consciously traditionalist peers among the emirate class are also frequently faulted for their own aloofness from current events and their seeming lack of ideas about how to address Nigeria's deep-seated challenges. In a sense, the emirs are damned if they become outspoken political actors and damned if they don't.
Alexander Thurston is Assistant Professor of Political Science at the University of Cincinnati. His publications include Salafism in Nigeria: Islam, Preaching and Politics and Boko Haram: The History of an African Jihadist Movement.