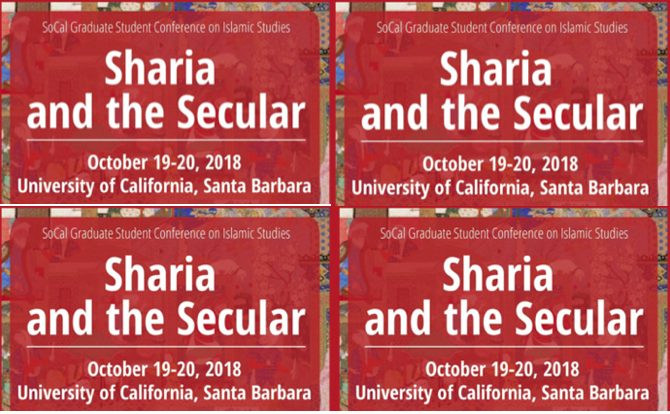 [Conference Report] SoCal Islamic Studies Graduate Student Consortium |"Sharia and the Secular" | October 19-20, 2018 | University of California, Santa Barbara
Background, Planning, and Conference Summary
With the launch of its doctoral program in Religion/Global Islam in the fall of 2015, the University of Southern California (USC) and its School of Religion added its name to a list of several other major universities in the region that offer graduate programs in Islamic Studies, including the University of California at Santa Barbara (UCSB), the University of California at Los Angeles (UCLA), and others. Since both of our arrivals into the doctoral program at USC my colleague Omar Qureshi and I have been in conversation with our academic advisor Professor Sherman Jackson on some of the ways in which we could promote the scholarly activities of our department. We came up with many ideas, one of which was to organize annual conferences, through which we would bring together our peers and colleagues from other institutions to discuss topics that related to the broader field of Islamic Studies. As a new program, we thought it would be a good idea to collaborate with other regional institutions in Southern California to undertake this project.
Over the course of 2016-2018 academic years, Professor Jackson, Omar, and I visited UCSB and met with Professor Ahmad Ahmad and some of the graduate students there in the Department of Religious Studies, including Esra Tunc and Brendan Newlon. This was followed by a return visit by Professor Ahmad and the UCSB graduate students to USC. After several discussions, we agreed to form the "SoCal Islamic Studies Graduate Student Consortium." This initiative, we envisioned, would draw on the academic reputation and scholarly expertise of several Southern California institutions, faculty members, and graduate students, to promote rigorous scholarly exchange. The Consortium's inaugural project was its graduate student conference under the theme "Sharia and the Secular," which was held on October 19-20, 2018, at UCSB.
The "Sharia and the Secular" conference was organized by Esra Tunc (UCSB), Brendan Newlon (UCSB alumnus, now Center for Creative Leadership), Omar Qureshi (USC), and me (USC).
Putting together a successful conference is always easier said than done. It takes a lot of time, brainstorming, and resources to come up with an interesting theme, to create and distribute a call for papers, to read through applications and abstracts, to create panels and place similar themed papers together, to acquire funding, to coordinate with panelists and participants, to arrange for the venue, food, and other logistics, to many other details. However, a conference is only successful to the extent of the dedication of its organizers, supporters, and attendees. I would be remiss not to mention the commitment of my good friends and co-organizers: Esra, Brendan, and Omar. They spent countless hours, despite their scholarly and familial responsibilities, planning every detail. A conference requires financial support, and, for this, I acknowledge and thank the generous assistance of the Center for Middle East Studies at UCSB, the Department of History at UCSB, the Walter H. Capps Center for the Study of Ethics, Religion, and Public Life at UCSB, Professor Ahmad Atif Ahmad (in charge of UCSB Religious Graduate Programming), the Department of Religious Studies at UCSB, the School of Religion at USC, and the Center for Islamic Thought, Culture, and Practice at USC. Despite being a graduate student conference, we were greatly assisted by the experience, support, and assistance of Professors Ahmad Ahmad (UCSB), Kathleen Moore (UCSB), and Sherman Jackson (USC); they have been wonderful supporters and mentors.
Why "Sharia and the Secular"?
 So, why did we choose "Sharia and the Secular" for the inaugural conference theme? For one, several faculty members and students at UCSB and USC have produced scholarly work and hold research interests in Islamic law and its relation to society, the state, and modernity.
"However, inspiration for the theme came mainly from the work of Professor Sherman Jackson."
However, inspiration for the theme came mainly from the work of Professor Sherman Jackson. During my first year in the PhD program at USC in 2015-2016, I greatly benefitted from Professor Jackson's scholarly discussions on Islamic law. In particular, I spent many fruitful hours listening to him discuss the role of Islamic law in the modern world and especially the idea of the limits of sharia. In 2016, Professors Ahmad and Moore hosted a
two-day roundtable at UCSB on teaching Islamic law
, where Professor Jackson introduced his idea of the "Islamic secular." This was followed by the publication of his
2017 article in the American Journal of Islamic Social Sciences entitled "The Islamic Secular."
Throughout this entire process, I, along with many other scholars and students, came to appreciate the scholarly genius of Professor Jackson's concept. It was (and continues to be) especially interesting to see the reactions from other academics to this concept, ranging from initial frustration and confusion to absolute excitement and engagement. Thus, the relationship between "sharia" and "secularism," "secularity," and "the secular" more broadly seemed to be quite fitting for an inaugural conference being organized by graduate students at UCSB and USC.
The "Sharia and the Secular" conference continued for two days and included several panels and lectures. On Friday, October 19, 2018, the conference opened with Professor Kathleen Moore's presentation on "Sharia Revoiced," a project that she and other scholars have been working on that surveys the ways in which Muslim communities in California have come to understand Islamic law. Following Professor Moore's presentation, two panels on "Problems and Debates in the Conceptualization of Sharia" included papers by Anas Mahafzah (UCLA), Mohammed Sadegh Ansari (Columbia), Khalil Andani (Harvard), Cameron Zargar (UCLA), and me, with responses by Professor Jawad Qureshi (Zaytuna) and Professor Sherman Jackson (USC). The first day ended with a keynote address by Professor Sherman Jackson, in which he revisited and expanded upon his idea of the "Islamic secular."
On Saturday, October 20, 2018, the conference opened with a panel on "Configuration of Sharia in the Early Modern and Modern State," with papers by Rushain Abbasi (Harvard) and Amy Fallas (UCSB) and a response by Professor Juan Campo (UCSB). This was followed by a panel on "Judicial Procedure in the Modern State" with papers by Wasim Shiliwala (Princeton), Brian Wright (McGill), Mohamed Medhat (American University, Cairo), and a response by Professor Ahmad Ahmad (UCSB). After lunch, Professor Liyakat Takim gave a keynote address on "Mintaqa al-Faragh and the Shi'i Secular." This was followed by the final panel of the conference on "The Application of Sharia in Contemporary Times," with papers by Kevin Dupont (Tufts), Sean Widlake (Northeastern), Brendan Newlon (Center for Creative Leadership), Sadique PK (EFL, Hyderabad), and a response by Professor Kathleen Moore (UCSB). Finally, Professor Elliott Bazzano (Le Moyne) delivered a presentation on "Islamic Studies and the Job Market: Reflections on Strategy, Surrender, and Mental Health." The conference ended with Professor Ahmad Ahmad's closing remarks.
Responses to the conference were mostly very positive. Faculty, students, and attendees enjoyed the challenging papers and discussions, the intellectually stimulating lectures, and the overall aura of the event. According to one attendee, "[T]his is the destination for students interested in Islamic thought and its historical and contemporary engagement with other discourses and traditions of thought across the world." Another attendee commented, "[T]his was a very successful and highly educational conference. I would recommend it with no reservations."
Challenges, Opportunities, and Tips
Organizing and executing a successful conference is not an easy task. Below, I suggest some important tips for (graduate student) conference planning, in the process highlighting some of the opportunities and challenges this sort of planning involves. Of course, the following is a list of general tips and is not meant to be exhaustive:
Begin early. Our planning for the conference began about a year before the event itself. This is when we formed a planning team and began to think of an appropriate theme. The more time one has to plan, the less stressful the overall process will be. Also, it's important to choose a good time for the conference. Avoid a time when other major conferences are usually held or when students will be busy with their seminar papers/exams and grading (such as toward the end of a semester). Luckily for us, Southern California has great weather year-round (when it's not consumed by wildfires!) and so a mid-fall time worked well.
Put together a dedicated team, figure out what each team member's skills and preferred tasks are, and assign specific tasks. Our team was passionate and did great in getting work done. However, there were times when we weren't entirely sure who was going to do what. We overcame this challenge by designating specific tasks to be completed among ourselves, usually including a deadline for the task to be completed.

Check in and meet often, especially when the need arises to brainstorm and complete major tasks. Our team began with an email thread. We then had a Skype conversation. Finally, we created a WhatsApp group. It's much easier to share information, ask questions, and provide feedback on a single platform. For us, we found that WhatsApp worked best and was an efficient medium to get work done.

Spend extra time reading through and selecting papers. This is one of the most difficult parts of conference planning. Reading through and determining which papers are suitable for your conference is a time-consuming process. Create a document and, as submissions come in, include in it the title of each paper and its author. In our case, we received over 40 submissions to our call for papers (many of which were submitted in the few days right before the deadline–so don't panic if you don't receive early submissions!) After our deadline, we read through all of the submissions. We then voted: each team member included his/her initials next to the paper that he/she wanted to accept. The papers that received majority votes were initially accepted. Then, decide how many papers to accept in total. Since we had decided beforehand to hold a two-day conference, unfortunately, we had to reject about half of the submissions due to our time constraints. The rest of the papers that we accepted were based on their relevance to our conference theme. We sent emails to those whose papers we could not accept thanking them for their submissions and explaining to them why we could not accept their papers. We sent letters to those whose papers we did accept letting them know of our decision.

Acquire funds. Conferences can't happen without money. Try to spend some extra time putting together a budget and reaching out to relevant departments and centers to ask for support. Many university departments have allocated budgets for events. There are also some other organizations that provide funding for scholarly events. This is especially important when organizing a graduate student conference. It is very helpful for students if a conference is willing, at least partly, to reimburse them for their travel and accommodation costs.

Have a backup plan. Some participants will cancel after confirming with you. Some will not make their flights. Some will be stuck in traffic. This may require adjusting the conference schedule or making other necessary arrangements onsite. Either way, expect the unexpected and try to come up with a backup plan.
Include as much diversity as possible. In selecting a theme and composing a call for papers, encourage participation by graduate students working in various disciplines and employing different methodological approaches. In your selection of papers, respondents, and speakers, be mindful of the gender diversity that will be represented by presenters, and consider ways to address a situation like we encountered, namely receiving a disproportionate number of applications from men as compared to women. Despite our planning and inclusion of several papers by female presenters, unfortunately, some of them were unable to attend, leaving our panels somewhat unbalanced.
Estimate more time for papers, questions, and breaks when putting the schedule together. Announcements and participants introductions take time. Despite giving specific time slots for papers and talks, some presenters may exceed their allotted time. Technological disruptions and delays will happen. Participants will be preoccupied with eating, discussions, and freshening up during lunch and coffee breaks. It's safer to estimate and allocate more time to each panel and break rather than less time. Participants will be happy if you finish a panel earlier; they won't if you delay.

Include a workshop/talk on student professionalization. If it's a graduate student conference, it would be very helpful to include a session on student professionalization. In our case, we arranged a talk on Islamic Studies and the job market.

Create and send a pre-event survey. We did not do this but will incorporate it in future planning. It would be a good idea to ask about dietary preferences/restrictions, audio/video recording, projector and other technological needs, and other preferences or accessibility needs.
Provide a detailed venue address, map(s), and parking/transportation directions. If possible, post signs directing participants to the venue. A few people had trouble finding the venue in our case. Some posted signs may have helped. It may also be helpful to provide participants with a telephone number of someone who would be able to respond to their calls and direct them to the venue in case they needed it.
Create a master document with tips, instructions, contact information, document templates, and other relevant information. This is especially important if you plan to continue holding conferences and when the need arises to pass on crucial information to future conference planners.
Be cordial. Meet and greet conference participants. Spend time speaking with as many people as possible. An important part of conference organization and attendance is the ability to network with peers and colleagues. You never know what sort of important friendships and scholarly relationships you may establish!
Say thank you. Distribute a name and email address contact form during the conference and send a thank you to participants after the conference. They will appreciate your recognition of their participation. Also, don't forget to thank your family members and friends! Conference organizing takes up a lot of time. If you have familial or other responsibilities, it's important to try to make up some of the time spent organizing and attending the conference with family and friends after the conference ends.

Create and send a post-event survey. The post-event survey will be a great resource in allowing you to evaluate your event's strengths and weaknesses and what to focus on when planning your next conference.

Have fun! Conference planning and participation can be stressful sometimes. But it's also a chance to forge stronger relationships with peers and colleagues, to build new connections, to become aware of and participate in ideas and work that interest you, and to develop professional experience. It's also a great opportunity to travel! So, enjoy it!

*All photos are courtesy of the author.