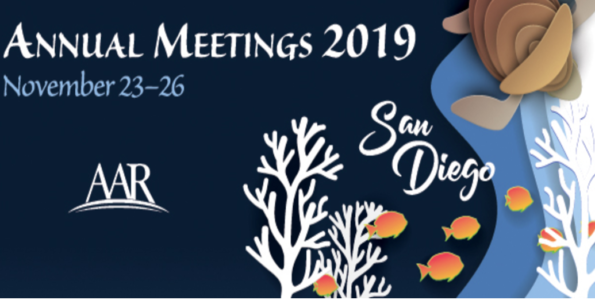 As a resource for our readers, the Maydan presents panel, session, paper, and other events/reception information related to Islamic Studies at the American Academy of Religion Annual Meeting in San Diego, California 22-26 November, 2019.
You can find a PDF version of the complete program book here. Although we have done our best to be comprehensive, we are sure we may have missed some very cool sessions/panels / other events. Please do let us know by emailing

publish@themaydan.com

and we will update the resource.
A22-115 | Friday, 12:30 PM–6:00 PM | Hilton Bayfront-Indigo 204B (Second Level) 
Anti-Islamophobia Workshop 
Theme: Teaching Against Islamophobia (By Invitation Only)
Todd Green, Luther College, Juliane Hammer, University of North Carolina, and Aysha Hidayatullah, University of San Francisco, Presiding
---
Friday, 12 PM | Convention Center, 25B Upper Level East
OneWorld Book Launch
Communities of the Qur'an, Editors: Emran El-Badawi & Paula Sanders
---
Society for Asian and Comparative Philosophy Theme: Coming Together Over the Ganges: Raimon Panikkar Symposium-Gerry Larson Memorial | Friday, 3:00 PM–7:00 PM |  Hilton Bayfront-Aqua 310A (Third Level) 
3:05 PM–4:50 PM Part I: Ecosophy (Raimon Panikkar's Cosmo-TheAnthropic Worldview): Practical Suggestions from the Religious Traditions on Climate Change 
Abdulaziz Sachedina, George Mason University | Practical Suggestions from Islam on Climate Change
---
Friday, 6:30 PM–8:00 PM Marriott Marquis-Del Mar (South Tower – Third Level)
Anti-Islamophobia Workshop / Teaching Against Islamophobia Reception (By Invitation Only) 
---
A22-500 Friday, 8:00 PM–10:00 PM Hilton Bayfront-Cobalt 501AB (Fifth Level) 
Film: Loyalty
Zachary Moon, Chicago Theological Seminary, Presiding Sponsored by the Moral Injury and Recovery in Religion, Society, and Culture Unit 
Loyalty is the first national storytelling project to recount the experiences of American Muslim military service members, past and present. We introduce a diverse group of men and women — immigrants, converts, and American-born Muslims — who gave an oath to protect the United States and uphold its Constitution. Given the rise in Islamophobia since 9/11, the project intentionally shines light on the contradiction that arises when Muslims volunteer to defend a nation that does not always defend them. Through immensely personal stories, the film shows that "loyalty" cannot simply be reduced to one's love of country but, in fact, takes many forms and is as complicated at the American Muslim experience itself. Themes addressed include the unique work of Muslim military chaplains who are fighting for religious freedom, interfaith cooperation, and acceptance of Islam in the United States Armed Forces.
---