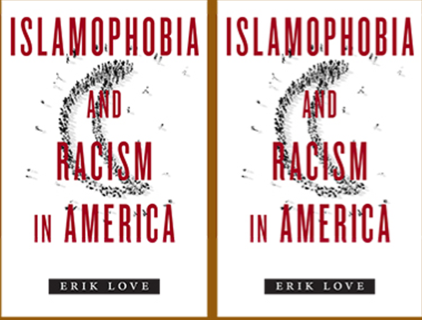 Erik Love, Islamophobia and Racism in America (New York: NYU Press. 2017). 272 pages. $28.00 paperback.
Reviewed by | Jeta Luboteni
Islamophobia is becoming increasingly more relevant today for a multitude of reasons. The election of Donald Trump, particularly in light of his campaign comments and "Muslim Ban," has increased the visibility of Islamophobia. At the same time, Islamophobia as a phenomenon is not a recent development precipitated by the Trumpian wave. Erik Love's timely book, Islamophobia and Racism in America, makes this clear. The book contains six chapters, first addressing the context of race in America, and then moving to illustrate Love's fieldwork on organizations that address Islamophobia.
Although it sometimes struggles to address such an expansive topic in one book, Islamophobia and Racism in America is a groundbreaking contribution and a good starting point not only to understand racism better, but also to think about more effective strategies to combat it.
While Love's book is a strong argument for conceptualizing Islamophobia as racism, his work is also about "how race intersects with the strategic decisions that many anti-Islamophobia advocates make" ( 31). In order to understand this, Love first introduces a relatively brief history of Islamophobia. He then provides a primer on various sociological theories and the status of racial hierarchy in the United States today. In particular, he bases his argument on theories of race and carefully explains the racial paradox (that race is simultaneously "obvious and invisible") and the racial dilemma (whether one should address race directly or indirectly) that faces America (22, 33). He also traces the historical evolution of Islamophobia and summarizes that of Muslims in America in order to frame his findings, based on interviews and close research on organizations such as Council on American Islamic Relations (CAIR), Muslim Public Affairs Council (MPAC), American-Arab Anti-Discrimination Committee (ADC), and South Asian Americans Leading Together (SAALT) among others (34). Love devotes a good deal to setting the stage to his research and argument before he introduces an analysis of how those working against Islamophobia organize and strategize. Love's main argument is that Islamophobia is best understood as a form of racism. He also finds that Muslim civil rights advocates have rarely understood it as such and have only sparingly employed anti-racist strategies.
Islamophobia and Racism in America reflects Erik Love's background as a sociologist and offers meticulous use of sociological methodology and theory. He shows how the current premier sociological theory of intersectionality – often employed in relation to gender and sexuality – relates to Islam.(17). It is important that Love includes such sociological theories as it strengthens his work and brings it in line with other literature on racism. This also helps combat treating Islam as an exceptional phenomenon and helps present Islamophobia as another manifestation of racism, of course, with its own history and attributes. It would be useful for those writing on Islamophobia to follow Love's example and work more closely with theories of racism.
Islamophobia and Racism in America, is very well researched, so much so that there is not nearly enough room in the book for Love to show all his research. Love's account is based on dozens of interviews with civil rights leaders, which he references to show the histories of and strategies employed by organizations he reviews (34). Love also conducts content analysis of pamphlets and promotional material of these organizations. Finally, Love creates a database of all the organizations in the past decades that dealt with issues related to Islamophobia and provides the readers with the list of keywords he employed in the content analysis. The database is a great contribution to the study of civil rights organizations and can perhaps be used for future research.
Love's work on the trajectories of these organizations is an important part of his book. He shows that the racial paradox prevents these organizations from creating lasting and effective coalitions with each other (142). In the rare case of cooperation, coalitions made by Middle Eastern American organizations "ends after a short term goal is met" (149). Furthermore, because Islamophobia works in many different ways and at different levels, it is difficult to combat, and these organizations have employed various strategies over time (143). But particularly after September 11 attacks, they employed a "race-neutral strategy," along with "rights for all" colorblindness (149, 152). Love finds that, overall, they do not employ civil disobedience and instead opt for lawsuits, rallies and direct appeals. According to Love, these Muslim American organizations have not been very successful in countering Islamophobia and he argues that it is partly because of their unwillingness to reckon with race.
Racialization of Islam
The major strength of Love's book comes from his discussion of racialization and how it relates to Islam. Love clarifies that not all Muslims "are classified into the same racial group. Rather, a racial identity that includes some Muslims has been created" (218). This means that Muslims from different ethno-racial backgrounds have different, subjective, contextual experiences of race and racism in America. Though Love makes great strides in this section, it is clear that a lot more work is needed right now from a variety of angles to better understand the question of race and Islamophobia in America. Love could have been much clearer in his terminology, and justified it better. For example, Love's inconsistent use of "Middle Easterners" as opposed to Muslims is distracting, particularly for readers that are not familiar with theories on the racialization of Muslims. He also fails to prove that institutional Islamophobia exclusively and primarily affects Middle Easterners, as there are multiple cases, such as the NYPD surveillance of Albanians, where a presumably non-racialized group of Muslims faced structural Islamophobia (97). At the same time, Love notes that he cannot encompass dynamics relating to all Muslims, and notes his limitation in not including Black Muslim organizations more (31).
"Perhaps the biggest stumbling block of this book is Love's use of the formulation 'Arabs, Muslims, Sikhs, and South Asians' (97) to refer to the subjects of his book. Love occasionally uses the phrase 'Muslims' but most of the time uses the above four-item list in that order."
Perhaps the biggest stumbling block of this book is Love's use of the formulation "Arabs, Muslims, Sikhs, and South Asians" (97) to refer to the subjects of his book. Love occasionally uses the phrase "Muslims", but most of the time uses the above four-item list in that order. It seems that this formulation came from official government documents, and indeed might be of some value in understanding structural Islamophobia, but it ultimately serves to obfuscate the problem rather than to solve it. Again, a reader that is not well versed or does not understand the diversity among Muslims and their varying experiences with race will perhaps have Islam further racialized by this confusing list of "Arabs, Muslims, Sikhs, and South Asians."
For all its strengths, Islamophobia and Racism in America does not quite deliver on some of its promises as, understandably, the author tackling contentious issues and seeks to bring a fresh perspective that is slowly finding its grounding in his disciplinary home.
Overall, Islamophobia and Racism in America is successful in its scope. It presents an informative and timely account about the current socio-political context of race in the United States and begins to counter the simplistic and uniformed discourses exacerbated by theories of color-blindness. Additionally, Love's meticulous analysis of a number of Muslim and ethnic organizations and their coalitions is very timely and well done. At the same time, it points out areas of research in dire need of further investigation. These include how Muslims interact with whiteness and passing as white, how structural Islamophobia operates and the extent to which it is based on race and/or religion (e.g., whether government agencies/actors actually believe the propaganda they espouse about Islam,) and to what extent  Black Muslims are more heavily surveilled and policed than other Muslims. More broadly, Islamophobia and Racism make it clearer that we need further research about how those that are not white or black navigate the American racial hierarchy.